Mass. mayor: Firehouse conditions are 'extremely disturbing'
Cambridge Mayor Marc McGovern toured the firehouses and saw that floors were held together by duct tape and some stations did not have carbon monoxide detectors
---
By Adam Sennott
Wicked Local
CAMBRIDGE, Mass. — Cambridge Mayor Marc McGovern toured three of the city's eight firehouses June 6, calling the conditions at Monday's City Council meeting "extremely disturbing."
Firefighters were sleeping on mattresses with holes. Floors were being held together by duct tape. Some stations didn't have carbon monoxide detectors or Wi-Fi, McGovern said.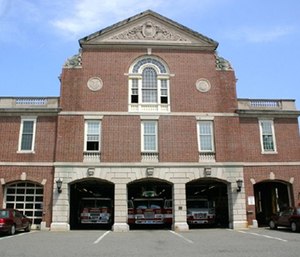 Seeing the conditions in those fire houses -- Station Two at Lafayette Square, Station Nine on Lexington Avenue, and Station One at the Broadway headquarters -- prompted the mayor to call for a facilities survey of all buildings. McGovern was told the state of these three facilities was representative of conditions across the department, according to a follow-up email with McGovern's chief of staff, Wil Durbin.
"These folks deserve much better," McGovern said.
Council calls for study
At the June 18 meeting, councilors asked City Manager Louis DePasquale to work with the Fire Department and the Department of Public Works to conduct a comprehensive facilities study on all firehouses to identify immediate and long-term improvements, including adequate accommodations for all genders. McGovern noted that while the city has "one of the top-ranked fire departments in the country," the city's firehouses are very old.
He said most were designed for a time when firefighters responded to emergencies in horse-drawn carriages.
"They have all these accommodations for horses," McGovern said. "I mean, they're really old buildings."
Councilor Alanna Mallon also toured some of the firehouses recently and said she was "a little bit shocked" by what the inside of the buildings looked like.
"The kitchens are gross, the sleeping quarters--as you suggested, there's holes in the mattresses. There's just curtains separating one room from another room, so there's no doors in the sleeping areas," Mallon said. "And the bathrooms need some serious work as well."
At the Lafayette Square firehouse, Mallon said she saw a "weird thing" on the wall. When she asked what it was, she was told it was the heating system.
"I had never seen anything like it in my life," Mallon said.
Council must 'protect' firefighters' health
Mallon said it's important for the council to "protect the health and wellness of those who protect our residents every single day."
Mallon said she's been pushing to get more women on the firefighting team, but that she's not sure anyone would want to work in that environment.
"Looking at the sleeping quarters, I'm not sure as a young woman if I would be really all that comfortable signing up for a career where I didn't even have a door in my sleeping quarters," Mallon said.
Mallon said she'd like to get the survey back in time for the budget next year so funding can be allocated for short-term improvements, while also looking at the long-term plan for updating the fire stations.
In the meantime, Mallon suggested her fellow councilors go and see the conditions for themselves.
"I would encourage all of you to go check out some of our fire stations," Mallon said.
Copyright 2018 Wicked Local