2 Milwaukee EMTs injured in FD ambulance crash
The EMTs were performing CPR on a patient inside the ambulance when it was struck by another vehicle
---
By News Staff
MILWAUKEE — Two EMTs were injured when their ambulance was struck by another vehicle on Monday night.
The Milwaukee Fire Department EMTs were performing CPR on a patient inside the rig when it was struck near an intersection, according to the Milwaukee Journal Sentinel.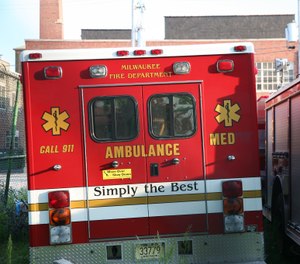 The EMTs sustained minor injuries, while the patient was transferred to another ambulance and also survived the incident.
The driver of the other vehicle was detained by police after attempting to flee the scene, according to Fire Battalion Chief Sean Slowey.
"I'm just glad everybody will be OK," Slowey said.