Calif. fire dept. launches paramedic program
Prior to the program launch, the 10 firefighter-paramedics on staff were not allowed to perform ALS and had to wait for an ambulance and crew to arrive
---
By News Staff
MONTEREY, Calif. — A fire department launched a program that allows their firefighter-paramedics to provide advanced care.
KSBW reported that the Monterey Fire Department currently has 10 firefighter-paramedics on staff, but before the program launched, they were not allowed to provide ALS care to patients and were forced to wait for an AMR crew to arrive.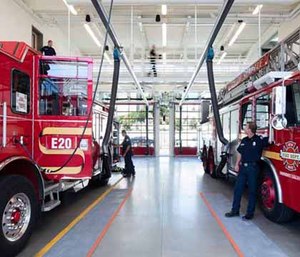 "Our hands were essentially tied to basic life support things, to taking good vital signs, and comforting you know with our words and ice packs," firefighter-paramedic Silas Fischer said.
The new program will reduce the amount of time patients wait for care, and Fischer added that since the AMR crews are coming from another town, the wait can be up to 20 minutes on busy days.
The fire department has been working to implement the program for the last couple of years.
"Through the application process we've had to prove that we have all the proper equipment, the proper training, we've spent hundreds and hundreds of hours training not only the paramedics to refresh their skills, but also all of the EMTs to be able to better assist the paramedics," Fischer said.
Chief Gaudenz Panholzer said the medical supplies cost around $35,000 to obtain, and the funding came from a Measure-A tax that was put in place specifically to fund paramedic services.
"The city of Monterey receives over $40,000 a year out of that tax, so it's enough to maintain those services," he said. "That tax was originally passed with the intention of ensuring that paramedic services are provided throughout Monterey County."