Former FF used EMT training to save coworker after chainsaw accident
Former Firefighter Tate Robinson says he used his past experience as a first responder to handle the emergency
---
Bridget Cooke
WiscNews
BARABOO, Wisc. — Former Baraboo firefighter Tate Robinson described his emotions as he rushed to his co-worker Andy Hansen in one word: "terror."
That feeling was mixed with uncertainty. Robinson had just been approached by a resident of the Pewaukee neighborhood where he was trimming trees. The bystander told Robinson that Hansen had been injured by a chainsaw.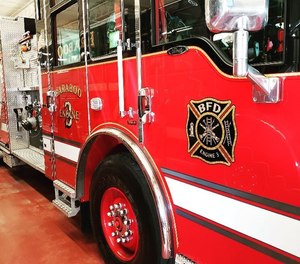 He rushed to Hansen, who was sitting down on the stump he had just been trying to cut. Robinson said he didn't believe it had actually happened until he saw the large, deep gash on his co-worker's leg.
"It's probably one of the worst injuries I've ever seen," Robinson said.
And it was life-threatening, Hansen said. His doctors at Froedtert Hospital told him that if the cut had been just one centimeter off, the saw would have severed his femoral artery. If that had happened, not even Robinson's quick actions would have been likely to save Hansen's life.
He can recall the events vividly, with the memories only slightly less fresh than in the days following the accident about four months ago. Hansen and Robinson, employees of a tree cutting service, were on a job with co-worker Caleb Becker.
"If him and Caleb hadn't have been there I would have died," Hansen said.
Hansen had been running the wood chipper, but he got out of the machine to cut a limb off of a log. Robinson said he gave Hansen the chainsaw and the protective chaps because he was planning to get into a bucket to trim higher limbs.
When Hansen started cutting the sole limb, he said the saw "kicked back" and cut him past the chaps on the inside of his leg. Hansen immediately knew the injury was serious. The Mukwonago native has been working in the field since 1991 and had only had maybe two shallow cuts during that time. He said he remembers the sequence of events every day, "just like it was yesterday, or even this morning."
"I was scared to death," Hansen said. "I'd never cut myself that bad. Ever. Not near that bad or that deep. I knew it was bad right away."
After seeing Hansen's condition, Robinson helped him lie down. He was shaken, recalling a conversation the pair had shared that morning about Hansen's children and his wife. It was a foreign feeling to suddenly have to deal with a medical emergency outside of the usual parameters of EMT work.
"When it's your job, you can separate from it," Robinson said. "You kind of have to put up those blocks to help the people you need to help without those emotions."
Though he wasn't prepared to deal with a life-threatening wound that day, Robinson began the steps.
"As soon as I got to him, it just went right back to the training," Robinson said. "It's just muscle memory at that point."
While Becker stood in the street directing 911 dispatchers on their location, Robinson ripped open the leg of Hansen's already torn pants and saw the deep wound, which was bleeding heavily. Hansen was later told by doctors the saw hit his iliac vein. Robinson grabbed his belt and wrapped it around Hansen's leg, trying to reassure him as he himself hoped the makeshift tourniquet would be enough until they could get Hansen to the hospital.
"I was holding it as high and tight as I could," Robinson said. "I'm holding the belt as tight as I can, looking him in the eye and telling him he'll be OK."
He was, but doctors were surprised. Hansen was back to work before three months had passed and said he has "no restriction whatsoever" with his leg. Even minimal nerve pain should subside after a year, he said, recalling what doctors told him. Robinson referred to it as "a miraculous recovery."
"I thank God every day, every single day, that those two guys were there," Hansen said, noting that Becker is a former member of the Marine Corps. "I also thank God for them having done the things they've done and have that kind of training, and having the wherewithal to fall back to that training."
After Hansen was taken away in an ambulance, Robinson said he was uncertain what had happened until a text from Hansen's phone relieved him of concerns. Hansen's wife, Bonita, had sent a message expressing deep gratitude for Robinson's actions.
Robinson received emergency medical training during his time on the Baraboo Fire Department and with the ambulance service. The 2010 Baraboo High School graduate started as a cadet at 16 and worked as a teen for two years with the department. At 22, he became a volunteer and stayed on for about five years before family commitments left little time to fight fires or respond to accidents.
Regardless, he knows the training was important because it helped save a life in a situation where the response from emergency workers could have been too late.
"Stop the Bleed," a nationwide campaign to help train everyday people to respond adequately when someone is injured, offers classes that people should consider taking, Robinson said. He knows that if he had not been there to apply a tourniquet for Hansen, there may not have been anyone else to do it.
"It still really hits me," Robinson said.
Hansen said after he cut himself, even with first responder training of his own, he was doubtful he could have helped himself after that much blood loss. He felt light-headed within a few steps.
"I was not thinking clearly enough to think, 'You're losing blood,'" Hansen said. "First thing I did was sit down and kind of regroup, and then when Tate came he said, 'You've got to lie down.'"
That's why, regardless of how much training someone is able to receive, everyone should try their best to become informed on how to respond in an emergency, Robinson said. Hansen echoed the sentiment.
"It takes so little time to take the training and keep it up," Hansen said. "That person who is trained can save somebody's life and change the course of history."
———
©2019 WiscNews
McClatchy-Tribune News Service