Ill. fire dept. sets its own record by reaching over 5K calls in 2018
The Park Ridge Fire Department responded to 5,187 calls in 2018, 3,156 of which were EMS calls
---
By Jennifer Johnson
Pioneer Press Newspapers
PARK RIDGE, Ill. — The Park Ridge Fire Department continues to break records when it comes to the number of calls coming into its stations.
The department responded to 5,187 calls in 2018 — a new record, according to Fire Chief Jeff Sorensen.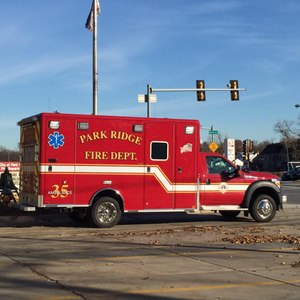 "It's our first time ever over 5,000," he said.
In all, the department responded to 370 more calls last year than it did in 2017, according to information released by the fire department in its annual reports.
The reason? More calls for paramedics, Sorensen said. According to the fire department's 2018 annual report, of the 5,187 total calls, 3,156 of them were for EMS services.
"The increase is almost entirely due to EMS calls. And what's driving that is health care," he said.
Residents are living longer and experiencing more complex medical needs, Sorensen explained. Hospital stays are often short and patients may return home, but end up needing emergency services, he said.
Also contributing to the increase in calls for patient transports to the hospital is the number of nursing and senior facilities in Park Ridge, Sorensen said. The city is home to four nursing and assisted living facilities — one of which, the Sheridan, just opened last year — in addition to Summit of Uptown, a retirement and assisted living residence that also generates a number of calls to the department, the fire chief said.
Health care facilities, including Summit of Uptown, count for about 13 percent of the department's annual ambulance calls, the chief said.
On top of these, the city has experienced growth in population through the addition of new multi-family housing, which Sorensen said may also drive up calls to the department.
Calls volume has been steadily increasing for years, department data has shown. Two additional firefighter/paramedic positions were added in late 2017 to help address the rising number of calls.
Crews are also able to keep three ambulances on the street at the same time because a lightweight rescue vehicle was added to the department's fleet, Sorensen said.
"We're able to help people quicker," he said. "The ambulance gets to their house quicker."
The fire department also provides mutual aid to surrounding communities and, additionally, crews may be called to a neighboring town if they are the closer first responders, Sorensen said. But he did not identify this system as a reason for the rising service calls. Instead, Sorensen pointed to the numbers, which show Park Ridge has received help from other fire departments almost as many times as Park Ridge crews have gone out of town.
"When you're that close on the numbers, it really speaks to a regional concept, where all of the department are acting as a bigger department and are just trying to get the closest resource," he said.
Earlier this month, the Niles Fire Department reported that it responded to 7,263 calls for service.
On Feb. 11, Park Ridge Mayor Marty Maloney questioned if there is anything the department can do to reduce its call volume — or if that should even be a goal of the department.
"If someone needs help, we're going to go — I'm not advocating we reduce those calls," Maloney said. "But is reducing call volume a goal fire departments have?"
Sorensen replied that this is a goal he and Executive Officer Paul Lisowski have set.
One way they have worked toward this goal is by meeting with Advocate Lutheran General Hospital officials to map out the types of calls that warrant a response from paramedics and those that can — and should — be addressed by hospital staff, Sorensen said.
Sorensen explained that emergencies within some buildings on the campus can be handled by hospital staff. Incidents that occur outside, however, may require an ambulance to respond because the hospital may not have the appropriate equipment to get the individual to the emergency room, he said.
Through talks with the hospital, EMS calls to the campus fell by half during some months last year, the fire chief said. But, call volume overall did not decrease due to non-paramedic calls to the campus, for things like alarms or issues related to construction projects, he said.
Amanda Phelps, coordinator of emergency preparedness at Advocate Lutheran General Hospital, also said the hospital is working with the fire department to reduce the use of department resources.
"Lutheran General Public Safety and the fire department now use immediate radio communication to downgrade or upgrade a response to a fire alarm on the hospital campus," she said in an email. "Lutheran General and the fire department/EMS have also partnered to decrease calls for patient transports from the campus medical office building to the hospital's emergency department by utilizing the medical resources on the hospital campus."
With 2019 underway, Sorensen said he expects the department to again respond to more than 5,000 calls by year's end.
"I see maybe a slight increase," he said.
McClatchy-Tribune News Service