Ohio fire dept. moves medic unit, shaves minutes off response time
Hamilton Fire Chief Mark Mercer said that move will shave as many as four minutes off of many emergency medic runs to places further west of Station 21
---
By Mike Rutledge
Dayton Daily News
HAMILTON, Ohio — No big deal was made about it at the time, but a move Hamilton made Sept. 25 is sure to improve emergency response times on the city's West Side.
That's when the city moved an emergency medic unit from its station near Main Street and Millville Avenue farther west to its Station 21, at 220 N. Brookwood Ave.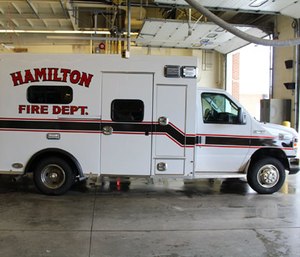 Fire Chief Mark Mercer said that move will shave as many as four minutes off of many emergency medic runs to places further west of Station 21, which opened in 1989. That's important because minutes count when responding to critical medical situations, such as heart attacks and strokes, he said.
"If you were at this station six weeks ago, and called for an ambulance, you're waiting for about three or four minutes for that squad from Main and Millville to get to this station," Mercer said.
Meanwhile, those who are close to the Main and Millville location — Station 24 — shouldn't see much slower emergency service because, as with all fire stations, paramedics can also provide services out of fire trucks rather than the ambulances. That happens every day already in Hamilton, Mercer said. The main difference in service time is that the heavier, less-maneuverable fire trucks are a bit slower to arrive at the scene.
The medic-unit move was the result of a 3½-year study and planning process that culminated with a $115,000 renovation process at Station 21 so the station could house the additional two paramedics, Mercer said.
The city worked with its International Association of Fire Fighters union in 2014 to evaluate fire-station locations and territories. That was the first time in about 15 years the city reconsidered the best locations for medic units, he said.
Mercer complimented Hamilton employee Rose Haverkos, an expert in geographic information systems mapping technology, for her work with Miami University in estimating how obstacles such as railroad crossings and neighborhood speed limits affect emergency response times. Haverkos also studied the most prevalent locations of emergency-squad runs, including at retirement homes and apartment complexes.
Thanks to that information, "We made the decision to invest in Station 21's renovation, especially considering that the calls in that area are increasing due to increasing residential stock such as single-family homes, multi-family homes, assisted living, and large apartment and retirement communities, like the Westover senior living complex and Berkeley Square."
Hamilton may have 60 to 70 house fires this year, but most of those are small and are quickly extinguished, Mercer said.
"By far, our biggest work is EMS," he said.
Copyright 2018 Dayton Daily News
McClatchy-Tribune News Service