Photo: Fallen firefighter leaves behind pregnant girlfriend
His girlfriend is expecting a baby boy in July; he never got to hear the news that he was having a son
---
CLEARFIELD, Pa. — An 18-year-old firefighter died Monday after he was critically injured when a porch collapsed and trapped him in a burning house.
Firefighter Jeffrey Buck Jr. loved being a firefighter and was a junior firefighter before becoming an official volunteer, WJACtv.com reported.
"It's a very sad day for the fire service and it is going to continue to be that," said Lawrence Township firefighter Jeremy Ruffner.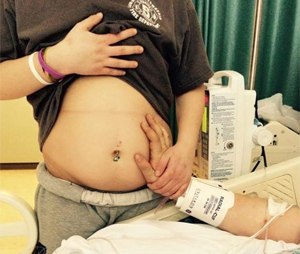 Ruffner said this was one of firefighter Buck's first time fighting the interior of a fire. He was making an exit of the house when the front porch collapsed, crushing him underneath the rubble.
The coroner said he died due to a lack of oxygen getting to his brain.
Ruffner also confirmed that firefighter Buck's girlfriend is pregnant, expecting a baby boy in July. However, he never got to hear that he was having a son, according to the report.
"He was a hero and anybody who would put their life on the line to try and save someone else's belongings is a hero in my book," said neighbor Justin Obleman.
The viewing for firefighter Buck will be Thursday from 12 to 8 p.m. at the Kevin A. Beardsley Funeral Home in Clearfield, Pa. A memorial service will be held Friday at 3 p.m. at the Clearfield Area Junior-Senior High School where he was a student.
Residents in Clearfield also began keeping their porch lights on as a tribute to Buck beginning Tuesday. A GoFundMe page has been created for those wanting to contribute donations.
Investigators are still working on determining the cause of the house fire.