$100K grant improves auto extrication for Conn. FD
Darien firefighters replace a 20-year-ol gas powered system with Homatro Pentheon tools
---
By Bill Carey 
FireRescue1
DARIEN, Conn. — A $100,553 grant has allowed the Darien Fire Department to purchase new extrication tools thanks to The Darien Foundation. 
In their request, the fire department highlighted how serious accidents have become more common due to speeding and a larger number of tractor-trailers on the road, the Darien Hamlet Hub reported.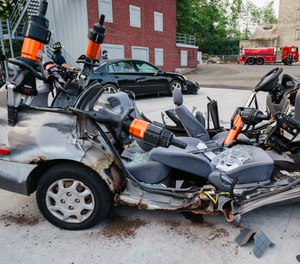 "The number of major accidents we respond to on the I-95 corridor makes this equipment vital," Chief Brian Francefort said. "Our firefighters will be able to access and extract accident victims more quickly, allowing for faster medical attention. The tools will also improve the safety and response of our firefighters, who can operate more efficiently and spend less time exposed at an accident scene." 
The fire department purchased two sets of Holmatro Pentheon extrication tools. The new tools are battery-operated, mounted on Engine 41 and continuously charged. They replace a 20-year-old set of gas generator-powered tools that were cumbersome to operate. 
The new extrication tools will give firefighters the ability to work on several sides of a vehicle at once and manage multiple vehicles at once if the need arises.