3 Iowa fire departments receive surprise grants
South Central Iowa Community Foundation awards grants to organizations from all over Union County from a distribution of gaming revenues and the Union County Endowment Fund
---
Regina Smith
Creston News Advertiser, Iowa
CRESTON, Iowa — South Central Iowa Community Foundation (SCICF) awarded three area fire stations with surprise grants. Afton, Lorimor and Creston Fire Departments each received $2,500.
SCICF awards grants to organizations from all over Union County from a distribution of gaming revenues and the Union County Endowment Fund.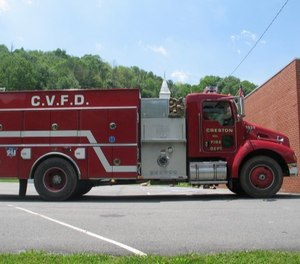 The Afton Fire Department has not decided how to use its grant.
Lorimor
Chief James Scheuch of the all-volunteer Lorimor Fire Department said he plans to use the grant money to replace some vital equipment.
"I was just going through the inventory today real quick this morning, and we've only got two of those left and no backups," Scheuch said. "If we break one or it quits working, we have nothing as a back up."
Scheuch also said he may use part of the funds to buy some fire hoses and other supplies. He said that he is currently working on prioritizing the supplies needed for the station.
Previous grants from SCICF have been used for supplies for the ambulance and new pagers for emergency communication system.
Creston
Daniel Stull of the Creston Volunteer Fire Department said Creston has not made a specific determination on using the grant money. However, it will be used for training of some kind.
"We're really focusing right now on putting money toward training for the men and women of the volunteer fire department and sending them out to do more trainings or looking to have more trainings here at home," Stull said.
The volunteer department has provided funds for firefighters to attend the summer and winter fire school in Ames, and last year four members went to the Fire Department Instructor's Conference.
Larger grants
Creston Fire Chief Todd Jackson said Creston Fire Department will also receive a $7,500 grant from SCICF. This grant, which the department applied for and will receive in June, will be used towards building a training complex near the existing fire station.
Jackson said he expects the training center to cost around $60,000 because it will be built by the firefighters themselves using approximately seven shipping containers. He said he hopes to have the concrete pad and one or two shipping containers in place by fall. The rest of the center will take two to three years to complete.
"By using Conex containers, we can build it as we go," Jackson said. "Our plan is to have the infrastructure, including the concrete pad, the water line and hydrant all set in and lighting set up this summer. And, hopefully, a couple Conexes to go along with that."
Currently the department has access to a small unit located at the compost site, which will be incorporated into the new training center, and a mobile training trailer owned by Battalion Chief Casey Carpenter.
The new training center will allow the department to do multi-story firefighting training. Firefighters will be able to work on setting ladders and dragging fire hoses to upper stories.
The larger facility will have room to set up a training maze for search-and-rescue, as well as, confined-space training.
The ability to do training on-site will allow firefighters to train more consistently and will be safer than using condemned houses. It will also allow the department to train without needing to move all of their equipment to a remote location and back again, saving time and money.
According to Stull, the fire department has raised nearly half of the necessary funding for the training center. The funds have come from a $10,190 grant from the Dudley and Norma Johnson Foundation in February 2019, the $7,500 from SCICF, plus various local fundraisers and is expecting another $10,190 from the Dudley and Norma Johnson foundation in early 2020.
———
©2019 the Creston News Advertiser (Creston, Iowa)
McClatchy-Tribune News Service