Firefighter recruitment help is available through SAFER grant
FEMA opens the SAFER grant application period for career, combination and volunteer firefighter recruitment assistance
---
FEMA has announced that the SAFER application period will open on Monday, March 26 and close on Friday, April 27 at 5:00 p.m. This year's allocation is $345 million for recruitment and retention activities, as well as hiring additional firefighters. Volunteer and combination departments can apply under either activity. Career departments may only apply under the hiring activity. Regional applications may be submitted by combination and volunteer departments for recruiting and retention assistance. Regional applications may not be submitted for hiring activities.
Municipalities and fire districts may submit applications on behalf of fire departments lacking the legal status to do so, such as those under the support of the municipality or district. The municipality or fire district may submit only one application for hiring per application period for each eligible fire department within the municipality or fire district.
Hiring of Firefighters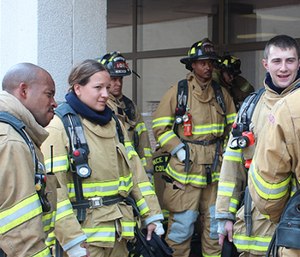 The goal of the SAFER grant program is to assist local fire departments with staffing and deployment capabilities to respond to emergencies and ensure that communities have adequate protection from fire and fire-related hazards.
Local fire departments accomplish this by improving staffing and deployment capabilities, so they may more effectively and safely respond to emergencies. With enhanced staffing levels, recipients should experience a reduction in response times and an increase in the number of trained personnel assembled at the incident scene.
Grants awarded under the Hiring of Firefighters Activity enable volunteer, combination and career fire departments to improve staffing levels to attain a more effective level of response and a safer incident scene. Grants are awarded directly to volunteer, combination and career fire departments to help fire departments increase their cadre of frontline firefighters. Hiring of Firefighter Activity grants provide fire departments with funds to pay new firefighter salaries and benefits (exclusive of overtime).
As part of the application process, applicants requesting funds for hiring will be judged on the following criteria:
Will the hiring of additional firefighters bring the applicant into compliance with NFPA 1720: Standard for the Organization and Deployment of Fire Suppression Operations, Emergency Medical Operations and Special Operations to the Public by Volunteer Fire Departments; or NFPA 1710, the 2010 Edition?
Will it allow the applicant to meet the two in two out rule?
Will newly hired firefighters undergo an entry-level physical and receive immunizations? To qualify for this higher consideration, the physicals must be consistent with those required under NFPA 1582 Chapter 6.
Applicants will receive higher consideration if the personnel funded under the grant will meet the minimum EMS training and certification requirements prescribed by the Authority Having Jurisdiction.
Department call volume and population served are both factors in the initial application evaluation. Departments responding to a higher number of incidents and departments who protect a larger jurisdiction will receive higher consideration than those departments responding to fewer incidents and protecting smaller jurisdictions.
Recruiting and Retention Applications
The purpose of these grants is to assist fire departments with the recruitment and retention of volunteer firefighters who are involved with or trained in the operations of firefighting and emergency response. The grants are intended to create a net increase in the number of trained, certified and competent firefighters capable of safely responding to emergencies within the recipient's response area.
As part of the process applicants will be judged on the following:
Does their department have problems meeting NFPPA 1720?
Higher consideration will be given to applicants serving a higher percentage of volunteer firefighters.
Applicants with a recruiting and retention plan will be given a higher priority.
Applicants with higher call volume will be given additional consideration.
Applicants that will provide firefighter health measures will be given priority.
Additional consideration will be given to applicants that require training to Firefighter II and EMT levels.
Applicants with a recruiting and retention coordinator will score higher.
Applicants that have an evaluation plan and a marketing plan will also be given priority.
New for 2017
There is a significant change to the scoring process for the 2017 SAFER applications. The pre-score for SAFER Recruitment and Retention Activity applicants has been reduced from 50 to 30 percent of total score. The peer review score for recruiting and retention activities will now be 70 percent.
SAFER Hiring of Firefighter Activity applicants pre-score will remain at 50 percent and the narrative score will remain at 50 percent.
In addition, applicants under the SAFER Hiring of Firefighter Activity will have the option to apply for additional funding to provide specialized training to paramedics, emergency medical service workers and firefighters to recognize individuals who have mental illness and how to properly intervene with individuals, including strategies for verbal de-escalation of crisis. This funding will be requested as an additional activity under the budget.