How can we improve bystander CPR and AED use?
One man's sidewalk save reminds us of the importance of bystander CPR and AED access
---
By Megan Wells, FireRescue1 Contributor
It's not groundbreaking to say bystander CPR is a critical link in the chain of survival. It has been shown over and over again that bystander CPR can more than double a victim's chance of surviving an out-of-hospital cardiac arrest (OHCA). 
Yet we also know the number of bystanders trained in CPR remains low. One study, conducted by AEDSuperstore, which polled more than 6,000 people, confirms that most bystanders would hesitate to provide assistance to someone experiencing cardiac arrest. Only 26 percent would feel comfortable performing CPR, and only 10 only would use an automated external defibrillator (AED).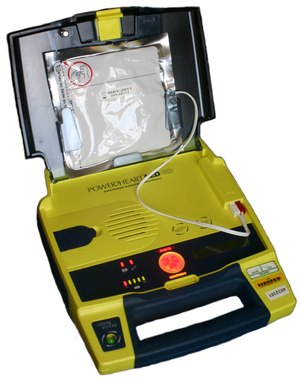 Why are bystander response rates so low? Do bystanders have all the tools they need to be helpful? One bystander's story might paint a clearer picture. 
Meet Mike Hoaglin, a bystander with a save
Several years ago, Dr. Mike Hoaglin, MD, emergency physician at Duke University Medical Center, came across a man in cardiac arrest on a busy Philadelphia sidewalk. At the time, Hoaglin was a fourth-year medical student and had some experience with CPR. He was able to determine the victim had no pulse, sent another bystander to find an AED, then began CPR. 
One problem: The tool he knew was essential for resuscitating the man, an AED, could not be found anywhere. 
The bystander hunting for the AED searched at a nearby drugstore and restaurants turned up nothing. Luckily, minutes later, another bystander came to the rescue by finding an AED at an unlikely place – her apartment complex, which had alerted residents about the machine located at the front desk. 
With a shock from the AED and continued CPR, the man's pulse returned even before the ambulance arrived. The victim underwent bypass surgery to re-route blood supply to his heart, and he returned home doing well. 
Hoaglin had his first save. 
FireRescue1 asked Hoaglin to share what lessons he gained from the experience. First, he suggested crowdsourcing AED placement as a key way to map out where the devices are located. 
"Many private businesses and residences have AEDs that are not recorded anywhere," he said. "In fact, the AED I used was brought from the lobby of a residential apartment building, which only residents knew about. The corner pharmacy, who you'd think would have one, did not." 
Hoaglin also mentioned the intimidation factor. He had CPR experience, but he noticed there was a crowd of about 30 people watching, gasping and paralyzed by fear. He was about a block away when he first saw the victim go down. 
"People were stepping around him, not wanting to get involved," Hoaglin said.
How can first responders help bystanders find access to AEDs and instill the confidence for them to provide immediate aid? First responders need to take leadership when it comes to spreading awareness about bystander CPR and AED access. Are we doing everything we can? 
Lessons learned from Hoaglin's save
Set your community members up for success 
Teach your community about AEDs and CPR. Most bystanders probably aren't aware that AEDs are designed to be user-friendly. 
Models like the Philips HeartStart FR3 are made specifically for community use. AEDs like the Philips model are almost completely foolproof. There are pictures to help place the pads, and voice prompts guide bystanders through the practice. 
Publicize apps like MyHeartMap or PulsePoint 
An AED won't be used if people don't know it's there. Find and use apps that allow AED owners to submit their locations for greater awareness and access. AED registrations are helpful for both bystanders and dispatchers, who can point a distressed 911 caller to the nearest AED. 
At the very least, use decals that alert people that there is an AED on the premises. 
Promote resources 
Tell small businesses and community members where and how they can acquire an AED. It can seem like an expensive purchase, so it's necessary to share how this important equipment can save lives, as well as potential sources for community grant funding. 
What does your department do to spread awareness about AEDs? Have you found a way to successfully advocate the importance of bystander CPR? Let us know in the comments below.