3 reasons to secure tools in the apparatus
Get organized to improve your speed on scene, ensure firefighter safety and get the most life out of critical tools
---
Sponsored by Ziamatic
By FireRescue1 BrandFocus Staff
When seconds count, it's important to know where your tools are. Keeping firefighting tools stashed securely in the apparatus can shave off critical seconds during a response and protect firefighters from damage caused by loose items. Proper tool storage also plays a key role in prolonging the service life of the tools and the apparatus itself.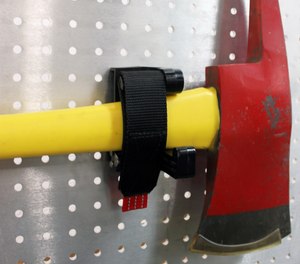 Ziamatic, a longtime supplier of storage solutions for the fire service, talked with firefighters around the country to find out what they liked and didn't like about their tool mounts. Based on those conversations, the company has introduced the new SURE-GRIP tool mount (model SG-VM-1), designed for securing handheld tools (3/4-inch to 1-3/4 inch handles) within fire apparatus or at the station.
"We saw a need for a more versatile, non-corrosive tool mount," said Keith Creely, Ziamatic sales manager, "something that would solve some of the problems departments were having with their brackets."
SURE-GRIP provides a wide, heavy-duty, all-weather hook-and-loop strap mounted on a rugged plastic base to provide more surface area and a precise grip on every tool, regardless of handle shape. To secure a tool, simply place the tool against the base, slide the strap over the tool and behind the fixed support arm, and then pull it tight to fasten the hook-and-loop surface. A fixed support bar helps hold it in place.
This new mount makes it easy to address three key reasons to secure tools in the apparatus: speed, safety and stewardship.
1. SPEED: Get to your tools faster 
Equipment malfunction or failure – including delays in finding the rights tool for the job – can result in injury or even death. Firefighters need to know exactly where to find the tools they need on the fireground without having to think about it. A tool mount like the SURE-GRIP helps ensure that there's a place for everything so there's no guesswork or precious time lost rummaging through compartments. Proper mounting means you can get to work immediately.
The SURE-GRIP provides quick access and is easy to operate, even with gloved hands. To release, just pull open the strap – which includes a rubber pad for extra grip – and it will free itself immediately as you pull and remove the tool. It's that easy.
2. SAFETY: Keep tools in place to prevent injury 
Organizing your fire apparatus compartments doesn't just save time on the fireground. Planning ahead can also help you identify and eliminate potential hazards to prevent accidents and injuries.
Loose tools will shift during transport, and these can fall out when the compartment is opened. The fireground is dangerous enough – nobody needs a broken toe or a serious gash from a falling axe. Even worse, in the event of a crash, loose items can become dangerous flying projectiles.
The SURE-GRIP, with a footprint roughly the size of your palm, accommodates a variety of tools, from axes to halligans to hoses on the outside of the rig. It can be mounted horizontally or vertically to configure as needed so you can fit more equipment in the space available. Installation is simple, with two low-profile truss head screws.
3. STEWARDSHIP: Protect your equipment investment 
Securing your equipment also protects the tools themselves. Strapping everything down keeps your gear from being banged up against other tools or the compartment walls, which can extend the life of the equipment (and, in the long run, the apparatus itself).
Taking care of your tools also saves money. Losing a piece of equipment is costly, both in terms of replacement funds and in the opportunity cost of not having the right equipment available when you need it. Using mounts like the SURE-GRIP to provide a secure place for everything allows for quick inspections of each compartment, as well as quick inventories on the scene, where an empty mount is an alert that something is missing.
"All in all, if you treat your tools and equipment right by securing them properly, they'll return the favor for many years to come," said Ryan Glover, Ziamatic marketing manager.
Fire departments and equipment dealers can request a SURE-GRIP tool mount for 30 days of evaluation at 1-800-711-FIRE (3473) or via the company's Contact Us page.

Request information from Ziamatic Corp. (ZICO)
Thank You!