PRESS RELEASE
Zico Presents a Drill-Free, Tap-Free, Weld-Free Mounting Alternative
---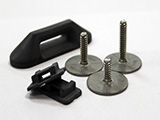 YARDLEY, PA – Ziamatic Corp. (Zico) introduces the EZ-MOUNT Adhesive Fastening System, a smart new way to mount tools, equipment, and so much more.

The EZ-MOUNT System is a unique line of adhesive and fasteners designed for use on virtually any surface. The patented, non-sag acrylic adhesive holds your parts in place through permanent, high-strength bonds. Bonds that provide as much as 2,700 lbs. of tensile strength in only 20 to 30 minutes.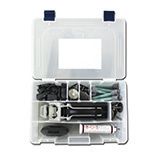 EZ-MOUNT allows for neat and clean installation and eliminates drilling and tapping, which exposes the core to moisture and leaks. It eliminates risk of inadvertent drilling damage and costly repair, and can be utilized in difficult locations where larger tools and/or people have poor access. It's also easy to use without the need for expensive specialized labor.

Ideal for installing equipment and tool mounts, running wiring and cables, and even affixing light bars to the top of an apparatus without penetrating the roof–EZ-MOUNT is already being used by top apparatus manufacturers!

Get started with an exclusive Apparatus Installation Kit available now. Then, simply refill only the parts you need. For more information please call 1-800-711-FIRE or visit ziamatic.com for an instructional video.

About Ziamatic Corp.

Ziamatic Corp. (ZICO) was founded in 1958 with the intention of providing the men and women of the fire services industry with products that make their profession safer and easier. Over 50 years later Zico remains a leader in SCBA bracket and ladder rack technology.

Request more info from Ziamatic Corp. (ZICO)
Thank You!