PRESS RELEASE
Zico's New Z-Shlammer Tool Combines Power and Utility
---

YARDLEY, PA — Ziamatic Corp. (Zico) introduces the new Z-Shlammer tool—and it's guaranteed to be a pure beast on the fire scene.

The Z-Shlammer breaks up concrete, drywall, wood, and more with its 6 lb. hammer, but adds in the multi-functionality of a pentagonal hydrant wrench and a 5-1/2" steel pry hook too. All this on a 1200 lb. rated, 32" fiberglass handle with 3-3/4" of built-in overswing protection. The Z-Shlammer is a monster perfect for forcible entry, salvage & overhaul, and even construction/demolition/home renovation projects. Fire, police, military, you name it, the Z-Shlammer will get the job done. A special "V-groove" allows for easy marriage to a halligan tool for storage and transport.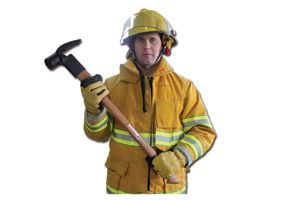 Available now. Ask to try one for 30 days of test and evaluation. Choose between a black or polished steel head and a black or brown handle. To view a video demonstration, visit youtube.com/ziamatic

For more information please call 1-800-711-FIRE or visit www.ziamatic.com

Request more info from Ziamatic Corp. (ZICO)
Thank You!