A firefighter's guide to communicating via two-way portable radios
The five Cs of radio communications help firefighters deliver effective size-ups and status reports
---
The FireRescue1 Academy features the "Firefighter Communications," a one-hour accredited course for firefighters. Complete the course to learn more about the basic administrative requirements for an effective communications network. Visit FireRescue1 Academy to learn more and for an online demo.
Listen to this article on the Fair Reach Forum – a firefighting podcast to inspire discussion.
The two-way portable radio is an integral part of firefighting and operational safety. If there is ever a moment of equality in the fire service, it is when the microphone of a two-way radio is keyed. Critical information and important updates know no rank during an emergency. For this reason, all firefighters must be proficient in the use of a two-way portable radio.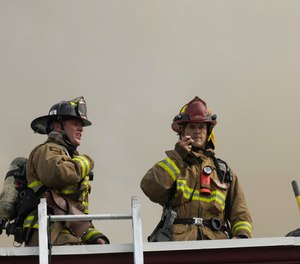 Radio transmission challenges
It's important to first acknowledge the difficult conditions under which you will be transmitting information over a two-way radio. Communications on the fireground are fast-paced and noisy. Firefighters are working with loud power saws and striking tools. The environment is smoky and restricts visibility. Add an SCBA and full PPE to adverse working conditions, and it's easy to see why there can be so many radio communications challenges.
Further, wireless radios are susceptible to interference from vehicle ignitions, electric motors, high-voltage transmission lines and computers, as well light sources, including LEDs, fluorescent lights and energy-efficient bulbs.
This is where training and repetitive drills can help firefighters know how to minimize such challenges during emergency situations.
The five 'C's' of radio communications
While transmitting on a radio may seem straightforward, knowing the number of members listening and acting on the information transmitted can be an intimidating experience for any firefighter, regardless of rank or experience. It's therefore important to master proper radio procedures.
Proper radio procedures begin with the correct way of using a two-way radio. Keying the mic first and allowing the channel to "open" avoids clipping the beginning or end of a message. Hold the radio upright with the antenna pointing skyward.
Formulate the information you want to transmit before speaking. Information must be important, timely and projected in a clear and controlled voice. The five Cs of radio communication serve as a helpful guide to delineate the key points for how to use a two-way radio:
Conciseness – be brief
Clarity – be clear in your message
Confidence – have confidence in the information you are sharing
Control – stay in control of voice inflections
Capability – practice speaking on the radio to develop your radio capabilities
Once you know what you want to transmit, place the mic 1 to 2 inches from your mouth, and deliver the information in a normal voice, free from slang, profanity or jargon.
Every message is repeated back to the sender to verify the information. Messages transmitted via radio should always follow your department's standard operating procedures (SOPs).
Again, practice and repetition during drills are critical in preparing a firefighter for that first open mic during an emergency.
Size-ups on the radio
The first-arriving unit at an incident is responsible for transmitting a size-up of the situation. Normally the responsibility of the first-arriving officer, the size-up needs to be brief and presented over the airwaves in clear, precise language.
The size-up should include the correct location address and a brief evaluation of the situation. In the case of fire, the size-up should include its location, fire phase and the attack mode selected.
If a building is involved, the size-up should include information related to building size, condition and construction type, as well as potential occupants and their condition. This gives arriving units a clearer picture of the scene and helps determine response needs.
Additional information to transmit over the radio
In addition to an initial size-up, on-scene radio reports consist of requests and instructions for other units or agency support, a declaration of on-scene command, staging location, the incident name and the incident commander for the declared incident. Progress reports should be given on a regular basis, and a brief action plan should be transmitted when necessary.
After the initial radio report is given, status reports should be initiated every 10 to 15 minutes. Transmitted on a simplex or duplex talk-around channel, these reports update all firefighters and associated agency personnel on the situation as well as any changes or corrections regarding tactics and overall scene conditions. Changes may include the transfer of command, moving command location, direction of fire spread, exposure conditions as well as anticipated actions or potential challenges.
Emergency radio traffic
Urgent messages take priority in the radio traffic. Most two-way radios have a button to transmit an emergency signal. When activated, all units stop transmitting and wait for emergency traffic. Emergency traffic consists of an agreed-upon evacuation signal, such as three blasts of an air horn or a high/low siren for 15 seconds.
A verbal mayday may be given on a prescribed radio channel monitored by all on-scene first responders. A mayday, voiced three times, will be followed by prescribed procedures that firefighters must already know and be trained on, regardless of whether a member of a rescue team or working as part of a fireground crew.
Training to talk
To reiterate, critical information and important updates know no rank during an emergency. As such, it's vital that all firefighters train on the use of a two-way portable radio, so they can effectively communicate on the fire and emergency scene. Training should cover everything from operational and logistical basics to how to transmit and respond to a mayday. Training to talk may sound simple, but what you say on the radio is essential to ensuring your safety and that of your fellow crewmembers.

Request product info from top Fire Radios companies
Thank You!