Educate the public about keeping pets safe during disasters
---
By Dr. Shana Nicholson
InPublicSafety.com
Many people consider their pets members of their immediate family. However, when it comes to disaster planning, very few families take the time to consider what will happen to pets if residents need to leave their home during a disaster. Therefore, it is imperative that the fire service and other local agencies educate the public about contingency planning for animals. Here are some thoughts about what information needs to be shared with citizens regarding their pets:
Make sure your community members know local and state laws of shelters.

Does your local area permit people to bring animals on a leash or should animals be crated?
If shelters do not allow for pets at all, what area hotels allow animals?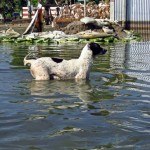 Read full story: Educate the Public about Keeping Pets Safe During Disasters

Request product info from top Fire Education companies
Thank You!