How Mondopad brought HD training and conferencing to the Addison Fire Protection District
55", 70", and (soon) 80" solutions feature interactive training across multiple locations in an easy-to-set-up, easy-to-use, all-in-one PC device
---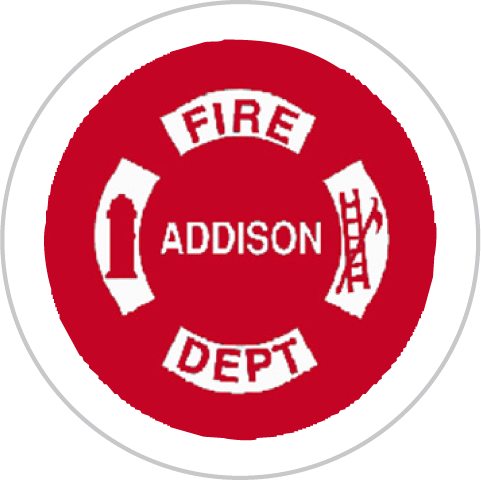 The following content is sponsored by InFocus
By FireRescue1.com Staff
The Addison Fire Protection district in Illinois, 10 miles west of the city of Chicago, encompasses an area of 12 square miles, including unincorporated sections of DuPage County.  Its 36 full-time firefighters work out of three stations, spread out horizontally across the district's coverage area.
The description above could apply to many agencies, with minor modifications, throughout the United States.  But Addison Fire Protection District is different in one key way: they, like many other agencies in the US using the solution we'll be talking about today, have taken a significant step forward into one component of the future of technology in the fire service, and done so with minimal investment and resources needed.
So, what did they do, and how did they do it?  FireRescue1.com recently sat down with Joe Grandolfo, a 30-year firefighter (now retired) and current head of IT for the Addison Fire Protection district, to talk about how they're using InFocus Mondopad's 55" (70" is also available) HD-touchscreen PC with built-in videoconferencing and interactive whiteboard functionality to conduct important remote training.
Q: Can you tell us a bit about the challenge that your department was facing which led you to look at the Mondopad as a solution?
A: We were looking around for a solution to solve a very long-standing problem of ours, which was how to train our personnel while at the same time keeping them available for responses, and in their respective stations. What we had been doing at the time was conducting four hours of training every day, taking units and moving them out of their districts to our central station – which in turn took them out of their response areas.
We looked at a lot of different options, ranging from Skype to very high-end and expensive teleconferencing systems, to try to find a way to centralize our training while letting the members stay at their posts. None of them seemed to be a particularly good fit in terms of offering what we needed, right off the bat.
Right around that time, the longtime IT equipment supplier in our area was having a showcase with different vendors, and so we decided to go check out some of the different offerings. Mark Cunningham from InFocus was one of them, and had a Mondopad right there, up and running and connected to the Internet.  
Q: What sold you on the Mondopad?
A: He sat down with me for a while and showed me some of the capabilities of the system. Anything that can be run on a Windows 7 computer can be run on the Mondopad, and since it's self-contained, it already has its own software running as well which provides the ability to do things like draw on a software "whiteboard" over a video or other content that you might be using for training, including while videoconferencing. That was enough to convince me to get a demo unit to put in front of our chief and our instructors – who immediately loved it. After that, we decided to get one for each station.
Q: What was the rollout process like?
A: I had some concerns about how it would be used, but in reality it was extremely easy to set up and adoption of it was nearly immediate – we trained people on how to use it one week, and the next week they were using it!  
From an IT perspective, setting up the Mondopad was as easy as adding any other computer to the network. Anything you can run on a Windows 7 computer, you can run on it – it does come with its own point-to-point software for videoconferencing, but you can also use GoToMeeting, Skype, or other solutions on it just as easily. 
Also, as I mentioned, the software whiteboard has proven really popular among our instructors – they can draw something on the screen, and other stations will see it simultaneously.  The other stations, incidentally, can also draw on their screens and have it show up on his, which is great for feedback and discussion.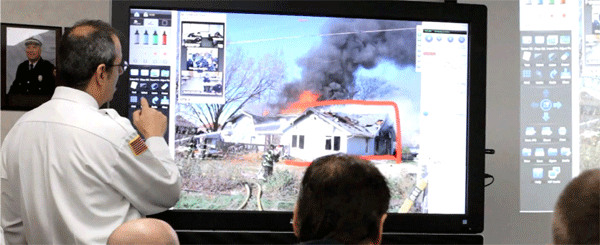 Q: What kind of results have you seen from using the Mondopads?
A: Well, videoconferencing is a new concept in the fire service, and DuPage County was one of the first in our area, as far as we know. Interesting story, on that note: our area's chiefs association had a meeting not long after we'd put the Mondopads into place, and they asked if they could see one in use during the meeting. Another company was there with a fancier solution, but they spent 25 minutes trying to set it up and it didn't even work! The Mondopad, on the other hand, powered right up, and connecting it to the Internet took only a minute or so since it can use either Ethernet connection or WiFi. They were really impressed.
As far as some of the real-world use we're seeing, there's a really cool feature called "display mirroring" which our instructors have really taken advantage of. The Mondopad can connect to a tablet device to either show the screen on it – useful if you have people connecting into the meeting from another location outside of the stations – or the tablet can be used as a remote control for the Mondopad. Since a lot of our instructors like walking around while they're talking, it allows them a lot more freedom to do so.
Q: That sounds pretty impressive.  What about looking at real-world incidents after the fact?
A: We've been using the Mondopad to conduct post-incident analysis of house fires, as well. By putting up video of the incident on the screen, and using the whiteboard feature, we've really been able to go in-depth in looking critically at our responses – it's allowed us to better train and look at what we do to help keep ourselves safe. We can even pull up a Google Earth view of the area that we were operating in, something we're also starting to look at in terms of doing some of our preplanning efforts. Having that capability really allows us to increase that safety for our personnel a lot.
One other thing (and there are many more that we're doing, but it would take a long time to go through them) is conducting our morning briefings through the Mondopad. Previously, the battalion chief would have to go to each station individually, now we can have a roll call with everyone gathered around their station's unit. It also means that staff officers who are out of town can still attend meetings, or conduct meetings with officers here through GoToMeeting – that includes our chief, who attended a trustees meeting from his iPad while he was out on vacation in another state.
Q: Anything you'd like to say about your agency in particular, in closing?
A: Absolutely. We recently renovated our administrative and on-duty personnel quarters with labor provided by our own guys, many of whom have experience in construction. That allowed us to do completely modern wiring for our IT infrastructure, which in turn allowed us to put the Mondopad at the main station into our administrative conference room on an Ethernet connection – it could have been done over WiFi and worked just as well, but it was nice that it was there.  
We're really proud that our guys came together to do the work, and we're excited about the opportunities that having the Mondopad will enable us to pursue in the future.
____
To watch a live, on-demand demonstration, visit InFocus Mondopad online here.