How the Mondopad HD giant touchscreen tablet can make firefighter classroom training more effective
The easy setup and maintenance, interactivity, tight security and visual impact of this device will put an end to sleepy PowerPoint training sessions forever
---
The following content is sponsored by InFocus. Click here to request more info.
By FireRescue1.com Staff
I'd like you to think for a moment about the last training session you attended. Chances are it involved you sitting in a classroom with an instructor in front of you advancing a PowerPoint presentation along, slide by slide. All of us in public safety have been through it more times than we can count, and like many of you, I've found myself thinking that there had to be a better way to learn.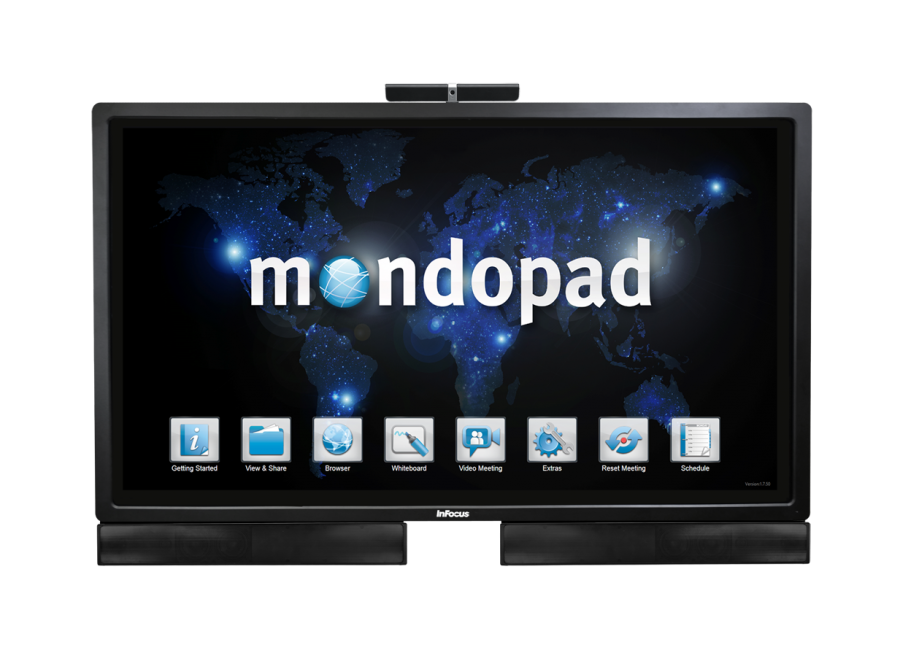 Recently, I sat down with Abigail Rath, the senior technical trainer at InFocus, whose supersized HD touchscreen all-in-one PC, video conferencing and whiteboarding solution offers that better way. Mondopad does it through the introduction of not only true interactive potential, but also by giving access to remote viewers as well and allowing them to participate. Read on to find out more about what the Mondopad is capable of, and how easy it is to integrate into your agency.
Tech Inside: Hi Abbi, nice to talk to you. So, for our IT folks out there, what can you tell me about how the Mondopad is implemented?
Abbi Rath: Great to be here. Well, the first thing to understand is that the Mondopad is a smart machine, containing an Intel i5 processor with our custom Mondopad software solution running on top of a standard Windows 7 64-bit installation. What that means is that the Mondopad can easily be brought onto your network, just as if it was another PC, and allows you to remote in if you need to troubleshoot or update settings or software, even doing push updates if you'd like. That includes the ability to access the built-in camera and manage your user permissions and preferences.
Historically, what we've seen is that most new technology is brought by IT to their administrative officers for consideration. Interestingly enough, Mondopad is the other way around – those administrators are seeing the integrative capabilities that we offer (such as the ability to use multiple devices in conjunction with it, including self-owned tablet devices), along with the intuitive interface which is easy for anyone to use and understand, and they are the ones bringing it to their IT folks.
With three different options available – a 55- and 70-inch available now, with an 80-inch coming soon – there's a device to fit every agency size. The Mondopad can either be wall-mounted using a standard VESA-compliant mount, or there is an accessory mobile cart also available, so that you can roll it from room to room. The Mondopad can connect to the Internet through either WiFi or via a direct Ethernet connection, meaning it can be portable if you need it to be.
TI: Sounds pretty versatile. What are some real-world uses and configurations that you're seeing?
Rath: Since our user-access control is extremely granular, with PIN access for each individual user, IT admins can control who can use what down to the individual folder level, including the ability to lock down a folder so that it can't be moved – and also to have any opened files prompt to be deleted upon exiting, which is an option but not mandatory. What that means is that we have some agencies who are using it for both administrative purposes – such as having private meetings between senior staff, regardless of where in the country they are – and for user-level purposes as well, like having a roll-call briefing that anyone who has authorized access can log into and view.  
You really can pick and choose who you allow to do what with it … we include vPro, Intel's processor-based security solution, which allows you to control what a user can access online, for instance, with a very fine degree of regulation, including blocking internet access completely on a per-user basis. It also helps protect against malware and other types of security risks, which gives the IT folks a bit of peace of mind. On top of that, IT can install and run any Windows-compatible application to the "Extras" feature and lock down access to install additional applications. IT admins also like that files and folders in the allows and "View and Share" feature can be PIN protected, so that only those authorized personnel can view that to which IT can control access.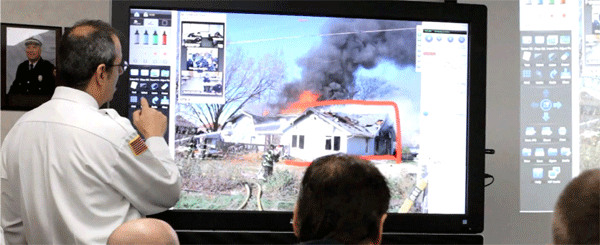 That flexibility, including the Microsoft Office license that comes with each device, means that people can use the Mondopad for specific training needs. Our incredibly popular "Whiteboard" feature, for instance, means that an instructor conducting training can draw over anything on screen, including video of an incident or more – and a student can, by using InFocus' free ControlView app on a tablet, make notes on the Mondopad screen as well — making the interactivity truly bi-directional. That, combined with a solution such as GoToMeeting, Skype, or other teleconferencing software, introduces a much more personal experience for those attending training from remote locations – be they on the other side of the country, or in another station in town while remaining in service.
Overall, the sky is the limit when it comes to the Mondopad and what it can do for your agency. IT admins love it because of its capabilities, users love it because of the simple, friendly user interface, and administrators love its flexibility and the fact that it can reduce the need to bring people into a central location to train – meaning more efficient training, and less time out of service for it.
____
To watch a live, on-demand demonstration, visit InFocus Mondopad online here.