Create a 'Leadership Library' to help develop your members' skills
Check out this list of books to help launch your station's leadership library so all members can access great content any time
---
Lifelong learning is key to a successful fire service career, whether through continuous training on critical skill sets or growing your leadership attributes.
One way to show your members that you prioritize career development is to start a "Leadership Library" at your fire department headquarters or a station.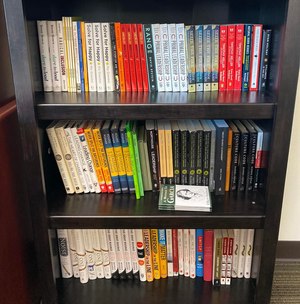 Meridian (Idaho) Fire Chief Kris Blume showed us his library: "I will forever be a reader of books – big and small. One of the best investments I can make for the benefit of our organization is this self-funded leadership library. I always find myself asking my peers, 'What are you reading?' and more often than not, I share a favorite book with friends and colleagues. When members of our team ask what I am reading, I point them to this library. It's a take one and bring it back … if you want; lend it to someone else … if you want, kind of exchange. It's my personal investment in future leaders."
So, where should you begin? Here are several books to get your Leadership Library started, with some inspiration pulled from FireRescue1 columnists and contributors.
Leadership lessons from beyond the fire service
Some of the greatest leadership books offer tips that can be applied to any profession, industry or service. These books might not use fire service-focused examples, but the lessons are universal.
"The Five Dysfunctions of a Team: A Leadership Fable" by Patrick Lencioni
"Extreme Ownership: How U.S. Navy SEALs lead and win" by Navy SEAL Jocko Willink
 "Grit: The Power of Passion and Perseverance" by Angela Duckworth
"Managing Transitions: Making the Most of Change" by William Bridges
"It's Your Ship: Management Techniques from the Best Damn Ship in the Navy" by Captain D. Michael Abrashoff
In his article "Leadership styles change – and that's a good thing," Chief John Morrison quotes Captain Abrashoff: "Leaders need to understand how profoundly they affect people, how their optimism and pessimism are equally infectious, how directly they set the tone and spirit of everyone around them."
"Range: Why Generalists Triumph in a Specialized World" by David Epstein
"Eat That Frog" by Brian Tracy

Chief Marc Bashoor recommends the following leadership books:
"Fierce Conversations: Achieving Success at Work and in Life One Conversation at a Time" by Susan Scott. This book breaks down some of the most difficult personal and professional conversations that you are most likely to face. We often avoid those situations that make us and others feel uncomfortable, instead of having the courage to begin the conversation.
"The Hero Code: Lessons Learned from Lives Well Lived" by Admiral William McRaven. As a complement to McRaven's first book, "Make Your Bed" and his 37 years of military experience, including being a Navy SEAL, "The Hero Code" is a guide to the values and virtue that ring true for all public servants. 
"Awakening the Sleeping Giant: The Political Empowerment of America's Heroes" by Congressman Curt Weldon. This book details the work Congressman Weldon led as a founding member of the Congressional Fire Services Institute (CFSI), which remains today the largest and most bipartisan caucus in the Congress. Weldon details the strategies that helped CFSI succeed and that can help fire departments remain engaged in the political process.
from our Fire service leaders
Now, if you really want to get your leadership lessons from within the industry, there are more than enough options to add to your Leadership Library.
Deputy Chief Billy Goldfeder has produced not one, not two, but three "Pass It On" books, sharing words of wisdom from dozens of fire service leaders, with book sales benefitting the National Fallen Firefighters Foundation:
Fire Chief Gary Ludwig has collected hundreds of tips and tricks of the trade in his books:
Fire Chief Alan Brunacini revolutionized the fire service's approach to command, safety and customer service. We are fortunate that Bruno shared his indelible advice on these topics in some of the most read fire-focused publications. While not easy to find – or cheap – the late chief's books would be a fantastic addition to any Leadership Library:
From the firerescue1 community
Members of the FireRescue1 community offered these recommendations for the Leadership Library:
What books would you add to your station or department Leadership Library? Share in the comments below or email editor@firerescue1.com.