Extreme ownership in the fire service: A key to firefighter success
When we start owning our happiness, success and morale individually, we will be successful as a team
---
Two of the most important "ships" in life and in the fire service are leadership and followership. However, there is a third "ship" that often gets overlooked – ownership, and extreme ownership at that.
Extreme ownership empowers leadership capabilities. Extreme ownership promotes and supports excellent followership.
I first learned of extreme ownership from retired Navy SEAL Jocko Willink. In his book, "Extreme Ownership: How U.S. Navy SEALs lead and win," Willink explains how extreme ownership applied to his time in the SEALs, as well as how anyone can apply it to their individual lives.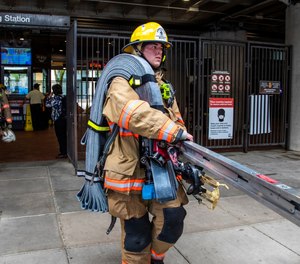 Extreme ownership should be from the top, all the way to the bottom. In work and outside of work, you, me, we should take ownership of our lives, from our personal endeavors to the overarching missions laid before us when on the clock.
More specifically, I define extreme ownership as the practice of owning everything in your world – to an extreme degree. It means you are responsible for not just those tasks that you directly control but also all those that affect whether your mission is successful.
Now, extreme ownership does not mean that when you fail, or when a mission fails, you curl up into a ball, throw up your hands and give up. Extreme ownership means that you use your passion, energy and heart to pick yourself AND your team back up – and you improve.
We have all been guilty of playing the blame game, of pointing the finger saying, "It's HIS fault the morale sucks!" or "If the line would have been pulled 10 seconds earlier, we would've gotten the stop on the fire."
I've been that guy. I've pointed that finger. And it took me nowhere I was interested in going. It hurt my team, and it hurt the overall mission. As a leader, and as a follower, this makes the comeback even harder to achieve. Never impossible, but more difficult without a doubt.
Your morale cannot depend on someone else. Your happiness cannot be made by someone else. When you have extreme ownership, you free your mind and you allow your abilities to shine. It is a powerful thing for an individual to take ownership. It is even more so when a team has ownership.
Stop expecting your officer to make or break your morale. Stop expecting your chiefs to decide how your day will go.
Should leaders in the fire service set us up for success in these areas? Well, hell yes they should. Will they always? Absolutely not. We are all human. We all have our personal demons and problems we have to deal with. But when we start owning our happiness, success and morale individually, we will be successful as a team.
In today's fire service, we aren't running structure fires every day. We have down time where we don't turn a wheel. The potential to breed complacency is paramount, if you're not owning everything in your world, you could fall victim. Don't. Allow. It. To. Happen. Take extreme ownership of yourself, your down time, your feelings and your happiness. No one else is going to do it for you. Better yourself, and better your organization. Suck it up when you need to suck it up, and fix it when you can fix it.
Decide today to take ownership of your life and your work.
Editor's note: How do you define "extreme ownership"? What examples have you witnessed at your department? Share in the comments below.
Request product info from top Fire Department Management companies
Thank You!