Death by PowerPoint
---
Microsoft's PowerPoint is clearly an excellent tool to use for training — but only when used properly. When used improperly, PowerPoint can kill your training. I call this "Death by PowerPoint."
Recall the courses you've attended where the instructor used PowerPoint, and the courses were excellent. The only items listed on the slides were the major ideas or themes and a few pictures.
Now recall the courses you've attended where the instructor used PowerPoint, and the courses were brutal. Most likely, everything the instructor said in their presentation was on the slides; "click-read, click-read," was how these courses were delivered to you. If it wasn't for the handout, you'd remember very little about those courses.
I recently purchased a canned program for a class I'll be teaching; the program is 667 slides long and designed to be presented over a 24-hour period (usually three eight-hour days). The lesson material is great; in fact, it's some of the best I've seen. However, to present it all, I'll have to change a slide every two minutes, and read every single slide to ensure all material is presented. And the reality is this: Considering its current state, the students will get more out of the class if I printed all 667 slides, wrote a 200-question test for it, handed out both and give them two hours to take an "open book test."
So if you're the instructor, or the person responsible for developing the training material, consider the following when building your PowerPoint presentations:
Can the topic be taught in a hands-on format? (If yes, then do it hands-on and forget the PowerPoint.)
Use the 6 x 6 rule: Use a maximum of 6 words per line and 6 lines per slide.
Only present the main idea on the slide.
Use the Notes section in PowerPoint to remind yourself of the discussion items related to the slide or to review questions you may want to ask the students. (See the PowerPoint image below.)
Minimize animation, especially automatic stuff. Animation takes up too much time, and inevitably automatic animated objects won't pop in when you expect them to.
Rehearse your presentation.
Last but not least, PowerPoint does not make an instructor better but, when used improperly, it can certainly make an excellent instructor look bad. PowerPoint is just a tool to enhance a presentation, so let it actually enhance what you want to say — not kill it.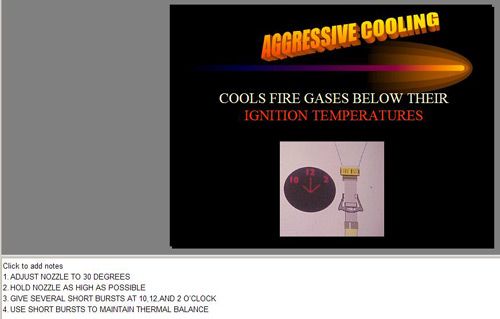 Request product info from top Fire Books companies
Thank You!