FireRescue1 Holiday Gift Guide
Not sure what to get your favorite firefighter? We've got you covered.
---
Firefighters may have to work over the holidays, but that doesn't mean they shouldn't spread a little cheer around the firehouse. Get your friends and colleagues one of these great firefighter-related gifts and show them how much you care.
MONOPOLY: Firefighters Edition, $39.95: How about a raucous and cut-throat game of MONOPOLY over the holidays!? This Firefighters edition of the classic board game puts a twist on the original by allowing players to take command of all the firehouses and headquarters on the board. (Emergency Services Play]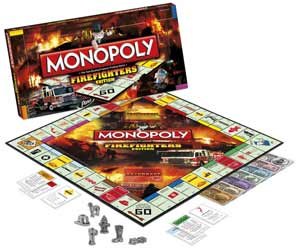 Report from Engine Co. 82, by Dennis Smith, $10: In 1972 Smith, a New York City firefighter, published his account of life in the busiest fire station in the country. Library Journal says, "It is the diary of a fireman in a station with over 700 calls per month. From the life and death heroics of firefighting to the frustration of false alarms and garbage fires, Smith ably shares his life at Engine Co. 82."(Amazon)
Blazing Bucket of Fire Hot Sauce Basket, $54.95: It's no secret firefighters like to eat. More to the point, firefighters like to eat hearty meals. And what's the best complement to a heaping plate of spaghetti or bowl of chili? That's right, hot sauce, and lots of it. With this bucket of heat, the hot sauce connoisseur in your firehouse will soon be sounding the alarm. (Amazon)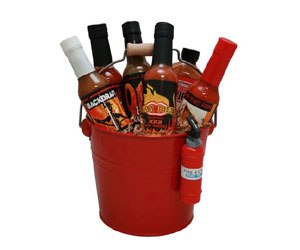 Engine 2 Diet, by Rip Esselstyn, $16: Big appetites can also bring big problems, as athlete-turned-firefighter Esselstyn discovered when some of his fellow Engine 2 firefighters in Austin, Texas, became dangerously overweight and unhealthy. The health program he developed for them probably saved some of their lives, and now that he's turned his program into the Engine 2 Diet, it might help save yours, too. (Amazon)
Gerber: Hinderer CLS- Combat Life Saver, $59.00: Use it to cut through clothing, slice through safety belts, open an oxygen tank valve, punch a hole in a window – this knife can do it all. Honestly, this knife might be a sentient being. This knife is so useful, it's officiating at my cousin's wedding next month. (thefirestore.com)

Survival Bracelets, $22-33: Whatever particular crisis you're dealing with — on or off duty — one thing firefighters can always use is a sturdy piece of rescue line. The surprisingly cool-looking Survival Strap Bracelet is actually a tight weave of up to 24' of 550# military spec paracord. Use it to lower your family off the roof or, in a pinch, tie your mattress to your car. (Survival Straps)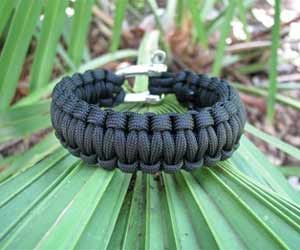 Do you have interesting gift ideas? Share them with your colleagues in the comments section below!