PRESS RELEASE
California Casualty gives back to first responders with the Work Hard/Play Hard contest
---
SAN MATEO, Calif. — Whether it's facing down 40 foot flames in a raging wildfire, performing lifesaving treatment to accident victims, stopping criminals or charging into a smoke-filled home to rescue children, you work hard to make our communities safer and better.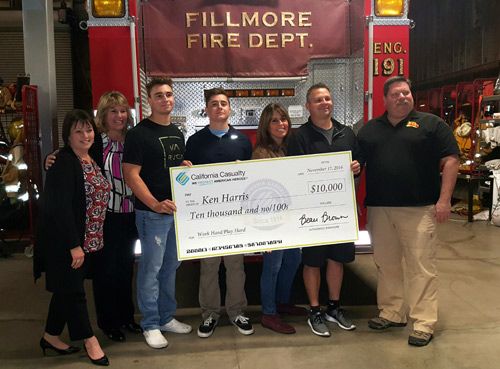 It's not easy and often the stress of the job can be a burden for the men and women who take an oath and wear a uniform. The challenges of the day can add up, and you often need to blow off steam to help tap the inner reserve for the next time you are on duty.
California Casualty has supported first responders for over 40 years and we realize the tough work that you do. We want to give back in meaningful ways that can make a difference in your life. 
That's why we created the Work Hard/Play Hard contest in 2011 to thank first responders for all that they do. The idea was to provide something of value that would help provide a firefighter, law enforcement officer or EMT the break they deserve.
It's been a well-received giving program.
Past winners include Arizona Highway Patrol employee Jacque O., who received a Sea Doo; Pennsylvania firefighter Robert L., who is still riding the Harley-Davidson he won; Ellie P., who donated her Polaris ATV to the search and rescue department she worked for; and Nebraska firefighter Tom V., who opted for the cash in lieu of a bass boat.
And the most recent Work Hard/Play Hard recipients have leveraged their winnings into life-changing opportunities.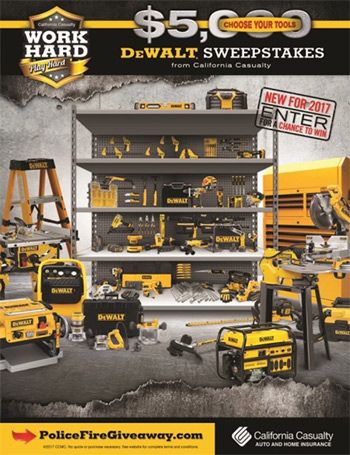 California EMT Joe P. used the funds to help defray the costs of commuting 70 miles to school three nights a week as he worked to become a fulltime firefighter/EMT, and to help make a down payment on a home for his fiancé and him. He was in shock as he received his check. "I have always appreciated what your company does for my friends, co-workers and me," he said at the time. "Thank you so much for this opportunity that will help us tremendously in the future."
Robert S. said his Work Hard/Play Hard windfall was, "Like a gift from God." Robert, who had moved 13 of the 16 years he was employed by the California Highway Patrol, took the money rather than a Harley motorcycle to make a down payment on his family's first permanent home. "I am a spiritual man and I honestly feel that the Lord provided for my family's needs today," he added.
And the 2016 winner, California firefighter/EMT Ken H., also collected a check rather than his choice of DeWALT tools. The funds came at an opportune time for Ken; he has two sons in college and a third who was soon graduating from high school. The money went towards his kids' tuition and books. Ken remarked how winning the contest enabled him to continue working and making a difference for the community he loves.
Now it's your chance to experience the thrill of receiving the next Work Hard/Play Hard prize from California Casualty. One lucky law enforcement officer, firefighter or EMT will get their choice of DeWALT tools or $5,000. Enter today at www.policefiregiveaway.com. The deadline is November 11, 2017, with a winner announced in December.
About California Casualty
Headquartered in San Mateo, California with Service Centers in Arizona, Colorado and Kansas, California Casualty provides auto and home insurance to firefighters, law enforcement officers, educators and nurses across the country. Founded in 1914, California Casualty has been led by four generations of the Brown family. To learn more about California Casualty, or to request an auto insurance quote, please visit www.calcas.com or call 1.800.800.9410.

Request more info from California Casualty
Thank You!