EMS Store unveiled at FDIC
It took a year of planning and negotiating with suppliers before company could get the store up and running
---
Witmer Public Safety Group used FDIC in Indianapolis to throw open the doors of its newest entity, the EMS Store. Sister to the Fire Store, this was launched in answer to frequent requests from customers, said Peter Kosciewicz, the company's chief marketing officer.
It took a year of planning and negotiating with suppliers before they could get the store up and running. Despite the Fire Store being well established, some suppliers saw the entity as a start up, said Ron Sigismonti, a career medic who serves as EMS Store's merchandise manager.
"It's a different animal than fire," Sigismonti said. And it meant working harder to get good pricing, he said.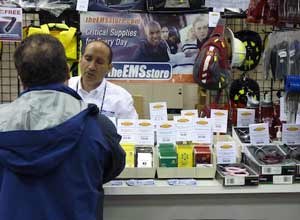 The company is looking for exposure at FDIC and expects sales will take off quickly.