TetraKO Fire Suppression Product First of its Kind to Earn EPA's Design for the Environment Program Recognition
New Fire Fighting Product category for environmentally safer alternatives created by the U.S. EPA's Design for the Environment program.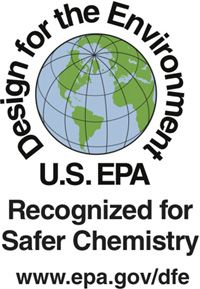 South St. Paul, Minn. – TetraKO, LLC, the fire suppression subsidiary of EarthClean Corporation, has earned recognition under the U.S. Environmental Protection Agency's (EPA's) Design for the Environment (DfE) program for its TetraKO™ biodegradable water enhancer. TetraKO water enhancer is the first fire suppression product to earn EPA's DfE recognition under the new Industrial/Institutional product category "Fire Fighting Product", satisfying the need for a highly effective, and environmentally safe fire suppression alternative. TetraKO is a cornstarch-based water enhancer that transforms ordinary water into an adhering gel that is dramatically more effective at attacking, suppressing, and containing fires.
When you see the DfE label on a product, it means that EPA's scientific review team has evaluated every ingredient for potential human health and environmental effects and allowed only chemicals from the safest in their class – that meet stringent EPA criteria – to be used. DfE-labeled products do not contain known chemicals of potential concern, like carcinogens, reproductive or developmental toxicants – and even minor product components, like dyes and fragrances, are screened for safety.
After a year of technical information exchange about TetraKO agriculturally-based fire suppression/extinguishment technology, a Partnership Agreement has been executed between EarthClean Corporation and the EPA's DfE Program. This is the first fire suppression/extinguishment product to be accepted under this category, and will now be listed on the DfE website.
"One of our first priorities as a company was to test TetraKO for its health and environmental impacts. This first-ever EPA DfE certification is further confirmation of this product as a safe and effective alternative for fire suppression," said Doug Ruth, TetraKO, LLC CEO. "We believe TetraKO has the potential to transform fire suppression technology. We are testing TetraKO with municipal fire departments, where it has proven effective in structural and car fires, as well as on wildfires."
In collaboration with the EPA's DfE program, EarthClean formulated TetraKO, a Class-A firefighting water enhancer that offers safer health and environmental characteristics, when compared to other firefighting chemistries. The TetraKO Qualifying Product contains no halogenated organics, inorganic phosphates, or hazardous solvents. Instead, EarthClean uses a proprietary blend of ingredients, much of which are agriculturally-based, that exhibit more positive environmental and human health characteristics than conventional fire-fighting formulations.
A main element of the partnership between EarthClean and the EPA's DfE program provides EarthClean the opportunity to work with EPA chemists and environmental scientists in investigating materials to further improve the health and environmental profile of its TetraKO Qualified Product. EarthClean agrees to make continuous environmental improvement an important activity in its R&D activities.
DfE-labeled TetraKO offers the following benefits:
ENVIRONMENTAL PROTECTION
TetraKO is formulated with the environment and human health strongly in mind. It contains components with a more positive environmental profile than conventional Class-A fire fighting products.
WORKER/CONSUMER SAFETY
TetraKO is formulated to help ensure a safer workplace. Users of TetraKO benefit from ingredients that include no components that pose serious health hazards. This benefit is amplified for firefighters, forest service workers and others who must use fire-fighting products on a regular basis.
RESOURCE CONSERVATION
TetraKO has certain attributes that may significantly reduce use of water and decrease overall fire damage, due to its enhanced fire-fighting performance.
CUSTOMER EDUCATION
EarthClean acts as a product steward by providing its customers information on environmental and worker safety matters, and trains its sales force on the benefits of formulations with improved environmental and health characteristics.
About EPA's Design for the Environment
EPA's Design for the Environment (DfE) works in partnership with industry, environmental groups, and academia to reduce risk to people and the environment by finding ways to prevent pollution. For more than 15 years, through partnership projects, DfE has evaluated human health and environmental concerns associated with traditional and alternative chemicals and processes in a range of industries. These analyses have empowered hundreds of businesses to select safer chemicals and technologies. DfE focuses on industries that combine the potential for chemical risk reduction with a strong motivation to make lasting, positive changes.
About EarthClean Corporation
EarthClean Corporation is a Minnesota-based clean technology company whose mission is to develop and introduce environmentally friendly and biodegradable technologies. TetraKO, LLC, a wholly owned subsidiary of EarthClean Corporation, is the firefighting company that helps firefighters attack, suppress, and contain fires. A team of engineers, scientists, and firefighters developed TetraKO water enhancer. Visit www.tetraKO.com for more information and to see the product in action.