PRESS RELEASE
TetraKO Technology Showcased at TEEX Open House
---
Product Development Center is site for TetraKO live burn demonstration.
South St. Paul, Minn. – TetraKO, LLC, the fire suppression subsidiary of EarthClean Corporation, was featured at the Texas Engineering and Extension Service Product Development Center (TEEX PDC) Open House in College Station, Tex. More than 150 guests gathered at Brayton Fire Field to officially introduce the TEEX PDC to the community and the fire service. The Open House included a test burn that showcased the performance of TetraKO water enhancer.
"EarthClean is committed to introducing TetraKO to the fire service, as is evident by their trip from Minnesota to demonstrate its capabilities here in Texas," said Caleb Holt, TEEX PDC Coordinator. "TetraKO water enhancer continues to impress, and we look forward to having TetraKO fire suppressant available to firefighters. In this industry, there is no middle ground when lives are on the line."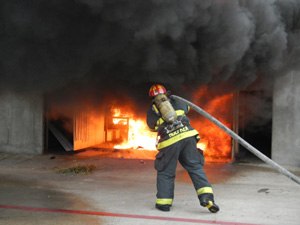 The internationally recognized TEEX PDC features a realistic training environment for testing innovative and disruptive technologies for emergency responders and critical infrastructure personnel. The Open House included demonstration of the TetraKO technology immediately following the ribbon cutting ceremony.
"We are thrilled to have been invited to demonstrate our TetraKO technology capabilities at the amazing TEEX Product Development Center," said Doug Ruth, TetraKO, LLC chief executive officer. "This is our fourth trip to College Station, and we look forward to working more closely with the PDC to further test and develop our bio-based products."
TetraKO technology is independently certified biodegradable and non-toxic, and has proven to be far superior to water and Class-A foam in firefighting. In March 2012,TetraKO technology was acknowledged in an extensive white paper by the Technology Council of the International Association of Fire Chiefs (IAFC) titled "Next Generation Water Enhancer for Fire Protection and Suppression in Wildland and Structural Applications".
About EarthClean Corporation
EarthClean Corporation is a Minnesota-based clean technology company whose mission is to develop and introduce environmentally friendly and biodegradable technologies. TetraKO, LLC, a wholly owned subsidiary of EarthClean Corporation, internationally markets products that help firefighters attack, suppress, and contain fires. A team of engineers, scientists, and firefighters developed TetraKO water enhancer. Visit www.tetraKO.com for more information and to see the product in action.