4 things to know before spec'ing a brush truck
Being overweight is bad, especially when it comes to brush trucks; here's how to order the right chassis for the application
---
So your department is looking to purchase a new Type 3 engine, otherwise known as a brush truck. The best place to start on any building project is with the foundation, which in this case means the vehicle chassis.
I asked Bruce Nalesnik, chassis group product manager at KME, what particular issues that arise and must be overcome, when select a chassis.
"Wheelbase for starters," Nalesnik said. "Everyone wants the shortest wheelbase possible, but there are limits. The biggest limit currently is the exhaust configuration due to the extra [exhaust] emissions equipment. The body builder has to choose the best available exhaust configuration based upon the customer's needs for pump and equipment placement, overall length and cab size."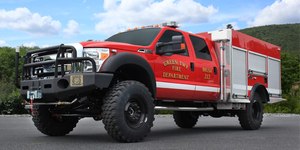 Likewise, he said, lot of departments want the largest pump possible in a very short space.
"This can be very tricky," Nalesnik said. "The pump model and size must be chosen carefully to fit on the chassis, and alternative ways to drive the pump may be considered. And it's not just the pump itself, but also the space for the discharges."
Available horsepower is another consideration. Twenty years ago, a 250-horsepoer engine was good enough for most Type 3 rigs, he said. Now, most have 300-horsepower engines because the units have gotten heavier.
"Also, the performance of the motor is dictated by the electronics used to control the [exhaust] emissions, and that has changed how quickly an engine can come up to power.
"Due to the larger engines, units have gotten taller. The customer needs to understand how this will impact the unit's ability to travel off-road."
The 150-gallon tank is a minimum, and most Type 6s have at least 300 gallons, Nalesnik said.
"In that size, there are really only two domestic chassis that work — the Ford F550/F450 and the Dodge 4500/5500. Occasionally, you'll see a unit on a smaller truck cab/chassis, but the purchaser really has to watch the weights as the available GVW is very limited, and the truck is easy to overload."
The basics
Any firefighting apparatus should comply with the applicable provisions for its vehicle type as listed in NFPA 1901: Standard for Automotive Fire Apparatus. In addition, brush trucks also have their own NFPA standard — NFPA 1906: Standard for Wildland Fire Apparatus, which applies to light brush trucks and all other wildland firefighting apparatus.
The Fire Apparatus Manufacturers Association is a good source for information regarding fire apparatus. Under the FAMA website's Fire Service Resources tab there is good information that can help a department's leaders to better understand provisions contained in NFPA fire apparatus standards.
If your brush truck could participate in operations at federal incidents and your department wants to be eligible to file for compensation, it must be NFPA 1906 compliant. Even if this doesn't apply, specifying a wildland engine that's NFPA 1906 compliant may increases the vehicle's resale value. 
The Wildland Fire Incident Management Field Guide, a publication of the National Wildfire Coordinating Group contains a classification system that types structural and wildland fire engines as well as water tenders. The NWCG's classifications provide a common terminology for fire apparatus, particularly for brush trucks where not only does the terminology vary by region, but so too do the configurations.
A couple of common mistakes that fire departments make when looking for their next brush truck are not adequately evaluating what tactical functions the new vehicle will typically be used for and where it will typically operate.
Tactical functions
What do you need to get out of your new brush truck? Will it be used strictly off-road for wildland firefighting or will it have to do double-duty as a brush truck/mini-pumper.
The answers to those questions will provide a good starting point for determining the size and weight of the truck chassis that you choose.
How much water will it carry and what size pump will the vehicle need to meet your tactical requirements? The NWCG Engine Typing for wildland engines lists these minimum requirements.
Type 3: Minimum water tank of 500 gallons; minimum pump flow of 150 gpm.
Type 4: Minimum water tank of 750 gallons; minimum pump flow of 50 gpm.
Type 5: Minimum water tank of 400 gallons; minimum pump flow of 50 gpm.
Type 6: Minimum water tank of 150 gallons; minimum pump flow of 50 gpm.
Type 7: Minimum water tank of 50 gallons; minimum pump flow of 10 gpm.
In addition to the pump and water, how much additional equipment must the vehicle be able to safely carry? Foam systems, backpacks, hand tools and other wildland firefighting equipment all add up to additional weight that must be factored into the vehicle's weight-carrying capacity.
Typical operating environment
Off-road operations can mean many different things in many different areas of the country. Will your brush truck be operating on relatively flat lands or will it have to negotiate hillier and uneven terrain? Will it operate in relatively open spaces like fields or meadows? Or will it need the ability to maneuver in forested areas with close tree placements and underbrush?
If the vehicle will be used for the towing of other equipment such as an equipment trailer or boat transporter, NFPA 1906, Chapter 12, Section 12.3.6 would apply to the truck chassis and systems.
According to that section of NFPA 1906: "The Gross Axle Weight Rating (GAWR) or Gross Vehicle Weight Rating (GVWR) of the chassis shall be adequate to carry the weight of the fire apparatus when loaded to its estimated in-service weight as defined in 12.1.2."
The estimated in-service weight must include these elements.
The chassis, body, and tank.
Fuel, lubricant and other chassis or component fluid tanks or reservoirs.
Full water and other agent tanks, if equipped.
250-pound weight capacity in each seating position.
Fixed equipment such as pumps, generators, reels and air systems as installed.
Ground ladders, suction hose, designed hose load in their hose beds and on their reels.
An allowance for miscellaneous equipment that is at least as great as the values shown in Table 12.1.2.
If the apparatus is designed to accommodate SCBA, an additional 25 pounds per seating position to the miscellaneous equipment allowance.
Can you now see why it's easy to create an overweight brush truck?

Request product info from top Fire Apparatus companies
Thank You!