Ala. man charged with damaging fire truck
Officials said the man jumped in front of the truck and began bashing in the windshield with a can of compressed air
---
By Kirsten Fiscus
The Anniston Star
ANNISTON, Ala. — An Anniston man remained in the Calhoun County Jail Wednesday after he attempted to bash in an Anniston fire truck windshield Tuesday night, officials said Wednesday.
"It happened right after the council meeting," Anniston fire Chief Tony Taylor said by phone. "They responded to a call near Edgemont Cemetery and there was a person that seemed agitated, according to the report from the incident."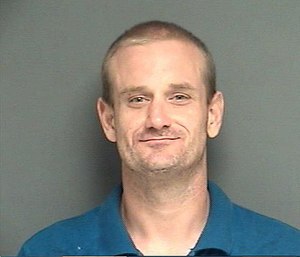 Anniston police declined to comment on the incident but according to matching case numbers on an arrest and incident report, Herbert Clifton Hughes, 39 of Anniston, was arrested and charged with first-degree criminal mischief, a Class C felony. Taylor, who was not present for the incident and did not know the suspect's name, said Hughes began attacking the truck.
"He literally jumped on the front of our pumper and started bashing in our windshield with a can of compressed air," the chief said.
The incident report indicated that Hughes was suspected of being under the influence of drugs at the time of the incident.
The truck, while still operational, is on limited use, Taylor said. The inside of the windshield was held together with packing tape and the front grill of the truck was slightly pushed in.
"To replace the windshield, it's going to cost between $1,000 and $1,200," Taylor said. "It'll be another $300 to $500 to install it."
Taylor said the new windshield should be installed by the beginning of next week.
Hughes' bond was set at $15,000 and a preliminary hearing was scheduled for Oct. 17 at 1:30 p.m., according to Calhoun County Jail administrators.
Copyright 2016 The Anniston Star 

Request product info from top Fire Apparatus companies
Thank You!