Apparatus highlights from FDIC 2011
A number of manufacturers unveiled new trucks at the annual show in Indianapolis
---
The fire service's biggest show, FDIC in Indianapolis, did not disappoint this year. With more than 28,000 fire service professionals in attendance and 800-plus exhibitors on the various floors, it seems the economy is firmly back on track.
A number of manufacturers unveiled new products at the show last month, including several new apparatus that was on display in the convention center and Lucas Oil Stadium.
Pierce
Like always it seems at FDIC, Pierce Mfg. stole the show with the unveiling of the new Dash CF. The new pumper on display has a tilt-forward cab design that positions the engine rearward and low space for the driver, officer and firefighters riding in the rear, as well as lowering the chassis for easier entrance and egress.
The larger, one-piece windshield provides better visibility all around. The current demo is designed around a PUC chassis, and we will have to see if this cab is expanded to other chassis.
Pierce's parent company, Oshkosh, had a new Striker ARFF vehicle with its Stinger Q4 RIV with mattracks 4x4 configuration also on display.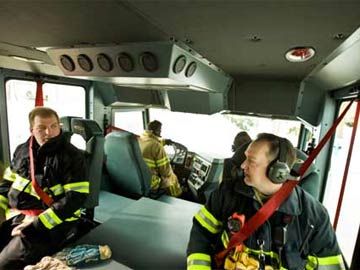 Photo Pierce
E-ONE
E-ONE introduced eMax at the show, which is a new chassis with a new pump location and short wheelbase for better maneuverability and increased storage space — 586 cubic feet of storage to be precise.
The compact pump panel design, which is only 24" in width, allows for more storage space on the vehicle. It also offers low intakes for easier hose connection with better ground clearance. The vehicle is available with 1250-1500 gpm pumps, Class A or Class B direct injection CAFS or ATP. The vehicle also has pump and roll capability.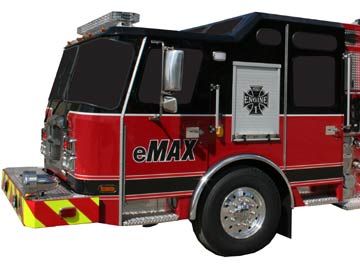 Photo E-ONE
KME
KME had its new Predator Cab (pictured below) and chassis on the floor as well as the new 79' Aerial Cat Quint. Also shown and in the works was the new PRO, which stands for Pumper Rescue Operations.
This new rig has a large capacity body, with 328 cubic inches of storage space as well as a 176' wheelbase, 1000 gallons of water, 25 gallons of foam and a 2000 gpm pump.
This new design has an all electric pump panel, with a diagrammatic panel and panel camera. The new design allows the pump operator to be kept away from the noise and discharge area of the pumper.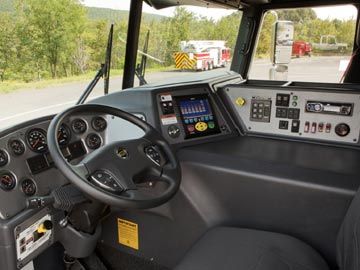 Photo KME
Ferrara
Ferrara showcased its new line called the Ultra custom chassis (pictured below). On display was an all stainless steel heavy rescue and rearmount aerial for FDNY. Also on display was a new aerial display panel, that gives the operator an accurate reading of the ladder tip from the ground, and the MVP with frame rail height speedlays that have been adapted to an aerial ladder.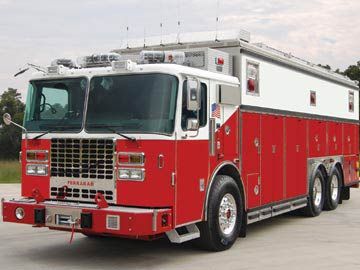 Photo Ferrara
Crimson
Crimson had two of eight examples of its new Classic Series of vehicles. These new vehicles offer quality and reliability at a lower price to satisfy many different types of fire service customers.
On display at this year's FDIC was a Classic Series Ranger Mini-Pumper that incorporates an all aluminum body with large compartments and roll up doors, 1250 gpm pump, and CAFS. It is built on a Ford F-550 chassis.
The second example was the Classic Series Tanker, with a pump under tank module with a 500 gpm tank and 2000 gallon tank. This vehicle is built on a Kenworth T370 chassis. 
Sutphen
Sutphen displayed a Shield Series S2 Pumper with Scene View Pump Controls, which allows the pump operator to operate the pump panel away from the roadway out of harm's way, as well as giving them a view of the fire scene. It's sort of like a sidemount topmount.
Also on the floor was the new generation SPH 100' midmount aerial, with 8" taller compartments, a new platform leveling device, a new LED bucket, pedestal and outrigger controls, enclosed pike pole holders and removable pump panel access as well as numerous other features. 
American LaFrance
ALF made its return to FDIC this year with an announcement that gives manufacturers and body builders a chance to use their Eagle Cab and Chassis as well as LTI ladders on their own offerings.
Hackney
In response to the increasing drive for interoperability on the fireground and the interest in homeland security, Hackney introduced VisionComms. This new system specializes in providing communications systems for disasters and search and rescue responder teams as well as command and control on the fireground.
The system can be built into the rear of a Tahoe or Suburban or a larger platform such as a command van. It can control two-way radio, cellular, e-mail, text messaging and various other communication methods to download or transmit data on the scene.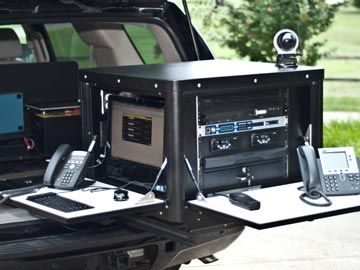 Photo Hackney
Rosenbauer
Rosenbauer had the Smart Cab for viewing at FDIC, which adds more firefighter riding space to a commercial chassis fire apparatus. The Smart Cab has a two-step unit, which swings out with the door for easy egress and entrance to the crew enclosure along with an option for a full-length glass covered door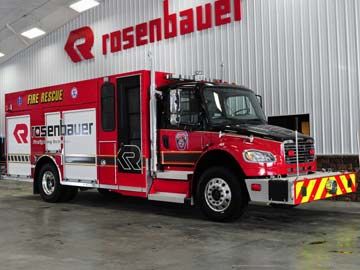 Photo Rosenbauer
This is by no means all that was new at FDIC 2011, just a sampling of the highlights. If you are planning to go next year, get to the show early and plan ahead. You really need several days to take everything in, and even that might not be enough time!

Request product info from top Fire Apparatus companies
Thank You!