Fire dept. gets new pumper with 'Free Cash' program
Fire Chief Keith Stark said the fire engine allows firefighters to pump upwards to 1,500 gallons of water per minute on a blaze
---
By Ed Baker
The Patriot Ledger
Firefighters stationed at the North Weymouth firehouse got an early Christmas gift Wednesday when a shiny new $650,000 fire truck arrived with updated firefighting equipment.
The Pierce Enforcer was purchased with funds Weymouth's "free cash" or surplus account under an appropriation approved by town council in June 2016 at Mayor Robert Hedlund's request.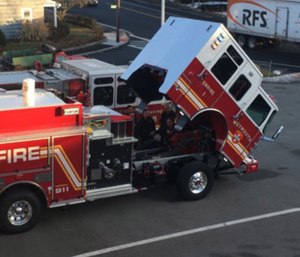 Fire Chief Keith Stark said the fire engine allows firefighters to pump upwards to 1,500 gallons of water per minute on a blaze.
"Thank you for supporting the fire service," he said to Hedlund and town council vice-president Michael Smart during an unveiling of the truck near the Ralph Talbot Amphitheater. "We have all new equipment on it. It has a 750 gallon water tank."
Stark said the truck has stronger suspension spans in its undercarriage that gives the vehicle greater stability when it is being driven.
"It has a backing up camera," he said. "Firefighters still stand outside the vehicle to guide it while it is backing up."
Stark said the apparatus is equipped with LED lighting which can illuminate the ground near a blaze for firefighters to avoid slipping on ice or debris.
"It will be housed in our North Weymouth station," he said.
Hedlund said the purchase of the apparatus was a priority item on the town's capital needs list.
"We are very excited," he said.
Smart said he is thankful Hedlund was able to provide the financing to purchase the fire truck.
"We look forward to getting this into service," he said.
A fresh smell from the vehicle's upholstery permeated the interior of the truck while Deputy Chief Chuck White highlighted its features.
"It is more efficient," he said. "It is a more efficient and powerful truck. It is more compact. This will take some getting used to," he said.
White said the apparatus would have four firefighters assigned to it.
"Our fleet consists of three engines and one ladder truck," he said.
White said the two additional engines in the fleet are each staffed with four firefighters and the ladder truck has two firefighters assigned to the vehicle.
A fire department work shift has 17 firefighters on duty in addition to a deputy chief, shift commander and two fire alarm operators.
The new vehicle has two updated "jaws of life" cutting devices and a "spreader" which firefighters utilize when needed at car crash scenes.
White said the truck is also equipped with a jiffy line that firefighters can use to carry a 150-long fire hose.
"With the high rise buildings in town, we need that," he said
Prior to the truck's arrival Stark said the new fire truck would compliment approximately $200,000 in renovations being done at the firehouse on North Street.
"We are getting the windows repaired and a new HVAC (heating ventilation air conditioning) at the station in North Weymouth," he said. "The station was built in 1936 and it was renovated in 1977."
Stark said the new truck would replace a vehicle which had been in use since 2003.
"We are very excited about this truck," he said. "We are updating the fleet and it will help in that way."
Stark said the truck being replaced would serve as a backup vehicle when an apparatus is taken out of service for repairs.
"We keep service at our same levels," he said.
Stark said the department of public works mechanics are responsible for maintain the town's fire trucks.
"We have great mechanics in the DPW that maintain our fleet," he said.
Stark said the purchase of the new truck would allow fire officials to dispose a 1986 truck that had been used as a reserve vehicle and its age currently exceeds the National Fire Protection Association's standards for a spare apparatus by 11 years.
Copyright 2017 The Patriot Ledger

Request product info from top Fire Apparatus companies
Thank You!