Is an initial-attack apparatus or QRV right for your department?
Use data to determine the appropriate apparatus for your department – and how staffing and tactics will change
---
It's no secret that over the past 50 years or more, fire apparatus in the United States have continued to get larger and heavier. As fire departments have added services (e.g., EMS, hazmat, technical rescue), new equipment must be added to the apparatus to support those services.
In "Considering the 'new normal' for fire apparatus," we discussed the role that initial-attack apparatus and quick response vehicles (QRV) can play in meeting a multitude of challenges. In that article, I addressed the financial aspects of "big pumper vs. smaller pumper" as well as fire suppression options (e.g., CAFS, UHP) that provide these capabilities in a smaller package.
But most fire departments are also facing other challenges that must be considered when specifying new pumping fire apparatus. Those challenges include: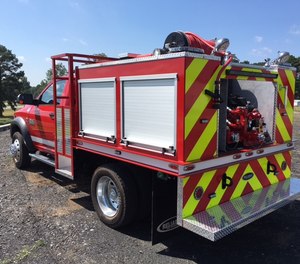 America's crumbling infrastructure: Many secondary roads, highways, interstates and bridges are succumbing to years of lack of maintenance or replacement due to underfunding by states and the federal government.
Decreased staffing: This is a problem particularly for volunteer-staffed departments, but also a growing concern for career fire departments.
Experience: Many new firefighters do not have prior experience driving big trucks.
Cancer exposures: Fire departments must focus on reducing firefighters' risk of developing cancer from their exposure to the chemicals, chemical compounds, and carcinogens during interior structural firefighting.
Environmental concerns: In many parts of the country, there is growing concern for available water supplies that are being affected by droughts and overdevelopment. There's also a growing concern in communities about the run-off from fires where large quantities of water were necessary to extinguish the fire, particularly given the number of petrochemical-based materials that are used in today's building construction and furnishings.
While many fire departments have started to downsize the fire apparatus in their fleet, opting for multipurpose apparatus, many proponents of a new approach still encounter resistance when trying to get leadership to consider anything other than a Type I pumper.
One FireRescue1 member shared: "I recently resigned from our Apparatus Committee after about 19 years [because] one of my great frustrations is that our department still wants to buy full-sized fire apparatus at the prices you mentioned when we use them to respond well over 80% of time to EMS and non-emergent calls. Full-sized apparatus also cost us a lot in long-term maintenance costs to operate. I have been an apparatus operator for about 18 years, I have driven to countless EMS and non-emergent calls in my career but can count the larger multi-line fires I pumped on one hand. The other small fires I pumped are also few and far between. I think the facts are clear: Fire department budgets would be benefit from matching the vehicle to what we are doing with them vs, what we 'romanticize' we are doing with them."
So, why are many fire departments continuing to specify and purchase fire apparatus that's not designed from the tires up to match the calls more closely for service it will respond to?
Evaluating initial-attack apparatus and QRVs
Before, it would be useful to first determine what problem you're seeking to solve. Purchasing any type of fire apparatus is a process for which several critical factors should be considered.
Step 1: How is your current fire suppression response package working out?
Use your department's computer-aided dispatch (CAD) system, along with your fire incident reporting system (e.g., NFIRS), to evaluate the number and types of emergency calls to which your department has responded. It's best to review 3-5 years of data, depending upon your department's level of activity. Some of the critical data points to evaluate:
How many responses were fire incidents that required fire suppression operations?
For those responses, what types of fire suppression operations were required (e.g., structure fires, vehicle fires, brush/vegetation fires)?
This analysis should help you determine your fire department's needed response package to best manage those types of fires.
Step 2: How does your current staffing or volunteer response align with your fire responses?
How many firefighting personnel responded to each call for service that requires fire suppression? It's a serious question because, after all, how many career fire departments can put this many firefighters on the scene of such a working structure fire?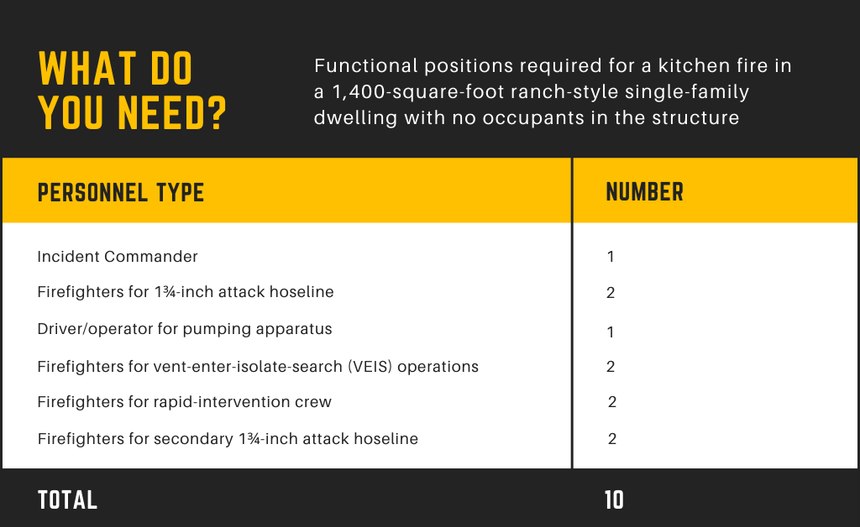 Just as importantly, how many fire departments can consistently respond within the response times outlined in NFPA 1710: Standard for Organization and Deployment of Fire Suppression Operations by Career Fire Departments?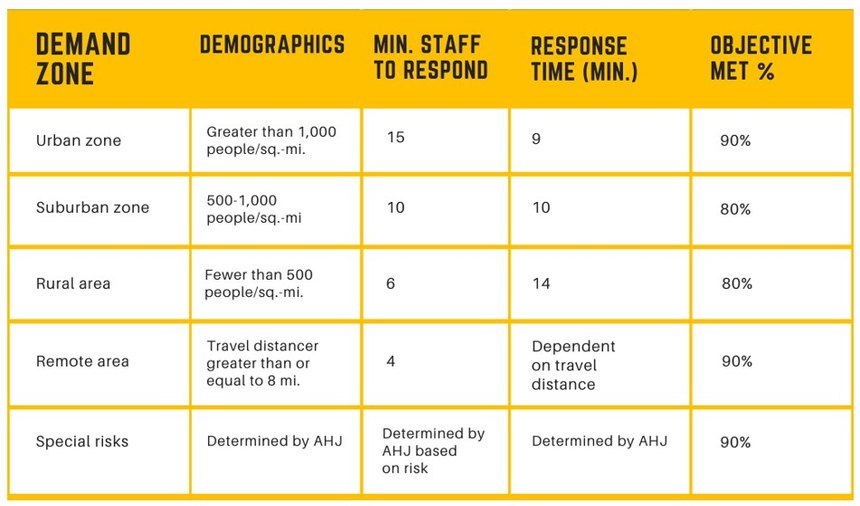 The question is more germane to volunteer-staffed fire departments. Table 1 shows the response requirements for those fire departments contained in NFPA 1720: Standard for the Organization and Deployment of Fire Suppression Operations, Emergency Medical Operations, and Special Operations to the Public by Volunteer Fire Departments.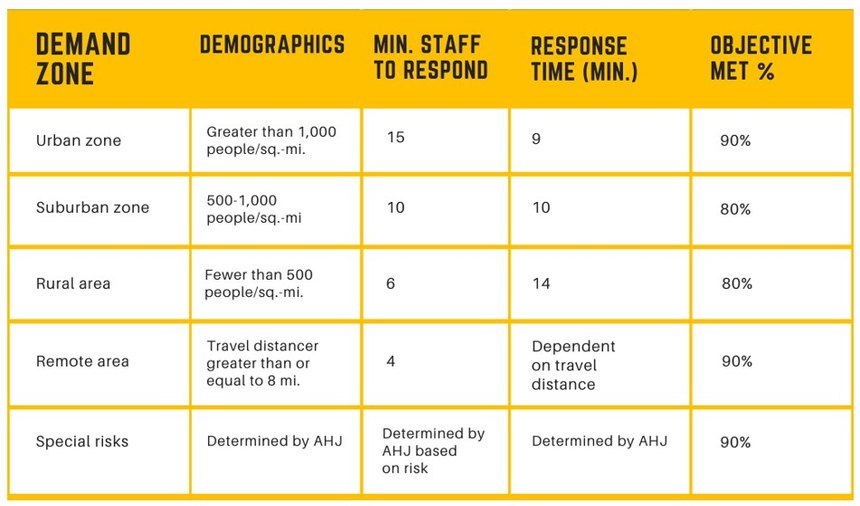 In today's world, where many volunteer-staffed departments are struggling to retain incumbent members and attract new members, how many of these departments can consistently put six firefighters – firefighters trained and equipped for interior structural firefighting – on a fire scene in a rural area within the 14-minute timeframe 80% of the time?
And those response goals are based on an assumption that all 4-6 firefighters who arrive on the scene are certified, trained and equipped to conduct interior structural firefighting operations. And if they are, can those firefighters accomplish with your existing pumping fire apparatus?
Step 3: Evaluate your current fleet and SOGs
Once you have a better idea of your community's fire history and the efficacy of your current approach for delivering fire suppression services, make a list of every current vehicle in your fleet and review your standard operating guidelines (SOGs) for each. This analysis can be useful in answering the question: Should we purchase an initial fire attack apparatus, QRV or a conventional Type I engine, or should we adjust the way we operate with our current fleet?
For example, if your data indicate that 95% of all responses to actual fires were safely, effectively and efficiently handled with one piece of fire attack apparatus and fewer than 5 personnel, an initial-attack apparatus or QRV might be a better apparatus purchase than a full-size pumper.
Step 4: Imagine new SOPs with an initial-attack apparatus or QRV
Once you've got a good picture of your current operating status, imagine what your new standard operating procedures (SOPs) would be like if your department had an initial-attack apparatus or QRV. A key point to consider is that most such apparatus only have room for 2-3 firefighters, so some of your current tactics will probably need adjustment.
Fire department leaders should develop an SOG making transitional fire attack from the exterior of a structure fire as the expectation for an initial-attack apparatus or QRV. Kevin Maschue is the planning and research deputy chief for the Mesa (Arizona) Fire and Medical Department. In his March 2020 article, "Combining transitional attack and early ventilation to reduce toxic exposures," Chief Maschue Chief provided a comprehensive look at how his fire department has radically changed how they approach structural firefighting.
Chief Maschue and several of his peers, inspired by the research conducted by the UL Firefighter Safety Research Institute, the National Institute of Standards and Technology (NIST), and the Bureau of Alcohol, Tobacco, Firearms and Explosives (ATF), approached their departmental leader with their idea for reducing firefighter exposures to the chemicals, chemical compounds, and carcinogens present in structural firefighting without losing fire suppression capabilities.
Those leaders empowered Chief Maschue and his colleagues to form a committee to develop policy and procedures to address those two key issues. Using the information and ideas presented by UL FSRI, NIST and ATF, the committee settled on one UL FSRI presentation entitled, Tactical Considerations Web Series: Ep. 15 – Transitional Attack with Fire Showing Near Entry Point.
About that presentation, Chief Maschue wrote that the UL FSRI defined this process as an initial exterior attack upon arrival, prior to making entry, that's designed to cool the structure's interior temperature and "reset the clocks" – those clocks being "time to flashover" and "victim survivability."
According to Maschue: "We have without question reduced the circumstances leading to near-miss situations and LODDs. In 4 years, I haven't heard of an experienced rollover or flashover condition, and I've reviewed many of our departments' working fires as part of a quality assurance program. We've also saved a tremendous amount of property in that I can't remember the last time we went defensive on a house fire, and there's no doubt these methods have provided us the opportunity for more successful and viable victim rescue when the situation has presented itself."
Apparatus and tactics: Yin and yang
In Ancient Chinese philosophy, yin and yang is a concept of dualism, describing how seemingly opposite or contrary forces may be complementary, interconnected, and interdependent in the natural world, and how they may give rise to each other as they interrelate to one another.
And shouldn't we view our fire apparatus and our structural firefighting tactics in that context as well? If we did, I believe that now is the time for many fire departments to become more adept at first determining what they want to accomplish in their service delivery, especially regarding fire suppression, and then specify the type of pumping fire apparatus that best fits that need.
[Bonus resource: How to buy apparatus]

Request product info from top Fire Apparatus companies
Thank You!