Q&A: The art of fire department fleet management
The chair of the IAFC's Emergency Vehicle Management Section shares his tips for funding, replacing the fire department fleet
---
Fleet management is an integral part of fire department administration, on par with training and building inspections, according to David Dock, EFO, chair of the International Association of Fire Chief's Emergency Vehicle Management Section.
As division chief of logistics and support services for the Olathe (Kan.) Fire Department, Chief Dock maintains the department's fleet, facilities and communications systems.  
"The apparatus is how we do our job," Dock stresses. "The apparatus is what gets us to the call to help the people we need to serve. So if this fails, we all fail."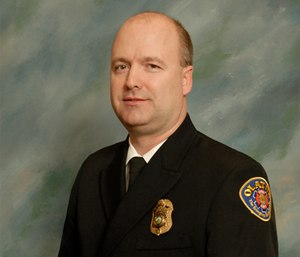 FireRescue1 asked Chief Dock to share his tips for mastering fleet management, and his insight into budgeting, maintenance and the magic number for vehicle replacement. 
FireRescue1: What are the biggest challenges in effective fire department fleet management?
Chief David Dock: I would have to say the budget.  Like all things, money is the driving factor to completing our job. If we don't have the budget, then we can't keep things going. 
I think another piece is vehicle replacement, trying to justify how to get our fleet replaced, trying to make those pieces fall into line, again within the budget. 
Vehicle maintenance is another one. Keeping our vehicles in service, operating properly and safely is crucial to the operation. 
Then the last piece is keeping up with technology. Keeping older vehicles in service puts us behind in safety technology advances.
It doesn't matter if you are a volunteer with one fire truck or a big city with 500 – I think those are the crucial challenges that are pretty common across the board.
What should a department consider when deciding on purchasing new versus used apparatus?
Depending on budget availability, how your city, municipality or governing agency equips you with the funding to purchase the apparatus is going to be the driving factor. So if you don't have a lot of money, maybe purchasing a used piece of apparatus would get you by for a little while, especially if you have an urgent need.
Some other factors to consider include the age and how well the apparatus was maintained. Try to obtain a history of maintenance for the vehicle. When we trade a truck in, those are some of the questions; the maintenance history, how many hours are on the engine, how many hours are on the transmission, all those basic maintenance pieces.
If you wanted to buy up on a car – maybe instead of your Toyota Camry, you wanted to buy a Lexus – you may be able to get into that vehicle at a lower monthly payment and get the things you need. Much like buying a car, if you don't have a lot of money but you want a new vehicle, leasing may also be an option, and sometimes you can get more for less. 
Many manufacturers also offer a lease-to-purchase or a lease buy back option where they'll the apparatus back at the end of the term and you can walk away or you can lease another vehicle, just like you would for a car. 
What are the benefits of maintaining continuity in a manufacturer model in your apparatus?
There are several benefits:
You don't have to stock a lot of different parts – most parts are going to be the same, so that helps with inventory and ordering; 
Training hours are going to be considerably lower;   
The safety factor; and
You're able to standardize equipment.
With less training, you're able to increase safety in that crew going from one fire truck to the other already know that it's going to brake a certain way, speed up a certain way, have certain similarities and the pumps are going to be the same. You can place things in certain compartments on all of your fleet if the compartmentation stays the same. Hose configurations for your pre-connected hoses and things like that can stay similar, that way you don't have to remember all the differences between apparatus.
How should fleet managers determine when to replace apparatus?
I think most organizations have anywhere from a 10- to a 15-year replacement cycle. A volunteer department that runs one or two calls a month is totally different than a department that runs a couple hundred calls a day department wide. Your large cities are probably all sitting at 10-year replacement cycles if not lower because they're just running the trucks all the time.
So that call load plays a big factor – the wear and tear, the cost to maintain the fire truck. How many hours are on the vehicle? How many miles are being put on it? Factor in the cost of the maintenance.  There's a break over point where the cost to keep the truck on the road becomes more than the truck is really worth. 
An example is you're 12 years into this vehicle and you need to replace the engine. So you've got to evaluate what is a new engine going to put into this fire truck? If it's greater than the value of the truck, then it's probably time to replace it. 
Another huge factor is that after about 10 to 12 years, advances in technology have outclassed previous versions of the vehicle in safety. Now you can get a fire truck that's equipped with airbags and rollover protection, while 12-15 years ago, that wasn't available. 
I want to protect the firefighters that are riding in the vehicle as much as possible. So maybe you look at it and say, you know, I'm past 15 years on this, maybe it's time I look at replacing it.
You also need to look at part availability. At a certain point, manufacturers and venders stop making parts to fix vehicles. You need to find the magic number.
How can departments minimize their apparatus replacement cycle?
We used to be a 15-year replacement department, but what we found was at about 12 years, it was becoming too costly to maintain the apparatus.
I worked really closely with our fleet management staff for the city. You need to work with whoever does your maintenance – get their support. Help them help you. They will be able to help you identify things that are becoming an issue, not only with the vehicles but maybe with parts or maintenance.
Using analytics, we calculated how much the vehicles were costing us, how many calls were we running with the vehicles, and the data helped us to make our case for lowering the replacement cycle down to 10 years for our city.
What is your approach to funding the apparatus replacement cycle?
We started a process where the department pays the city a lease fee. The city pays for the vehicle up front and then the fire department pays the city back. If it's a new vehicle that's added to the fleet, we double the payment.
That pays for the first purchase and then it also pays for the next purchase. Whether it's an SUV, a fire truck, an ambulance, whatever it is, if it's brand new to the fleet, we do a double lease fee, and then we add five-percent to help offset any future inflationary factors and add it to the budget. 
Then, when that new vehicle comes up for replacement, the money's already there and we just replace it. 
What do you advise other chiefs regarding fleet maintenance?
I would say build that relationship with your fleet manager. Make sure you have someone in the fire department responsible for overseeing the fleet on a daily basis.
Also, relying on emergency vehicle technicians is important as they are trained specifically for emergency vehicles. Fire trucks aren't the same as a trash truck or a police car or some SUV that the city or the municipality may be familiar with. 
There's a lot of computer equipment on these vehicles. There's a lot of specialized equipment that's part of the vehicle, like the pump. So being trained to view the specific things to look for and trained according to national standards is important.