Top firefighting boat trends
Rigid-hull boat construction and parallel hybrid propulsion are well-suited to the challenging rescue operations of firefighting boats
---
Many fire departments have navigable waterways in their response areas, such as lakes, rivers, sounds, bays and even open ocean. Those departments find themselves faced with a wide variety of seasonal or year round maritime emergency service delivery including fire suppression, rescue operations and safety patrols.
Many fire departments have found that rigid-hull inflatable boats can effectively and efficiently meet their operational needs. But others find that these watercraft are less desirable depending upon the waters they operate in or the services they seek to deliver. Enter the rigid-hull boat.
Rigid-hull boats that are specially designed for first responders can provide a more reliable and stable watercraft from which departments can meet challenging rescue operations and fight fires on other boats or shoreline structures. A growing number of rigid-hull fire boats can have features like: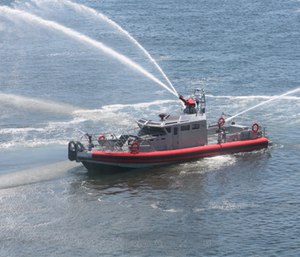 Automatic bailing cockpits and flow-through transoms.
Ruggedized hull collars that prevent damage from equipment being loaded or unloaded or victims being pulled aboard.
Strategically placed rescue doors that enable responders to more safely, effectively and efficiently pull victims aboard.
Specialized electronics for locating victims and navigating in foul weather.
On-board supplied air breathing systems that enable firefighters to use their SCBA facepiece without the cumbersome SCBA cylinder and frame.
Marine fire-fighting pumps.
Specific boat designs can vary for coastal, inland lake or river applications. Fire departments looking for the right rigid-hull boat for their operations should ensure that the boat is built to U.S. Coast Guard and American Boat and Yacht Club specification standards.
Rigid-hull boats for fire and rescue
When people discuss rigid-hull boats for public safety work, the name Boston Whaler is usually prominent in the conversation. The foam-core Unibond construction used to construct the Boston Whaler line of boats provides more than twice the flotation required by the USCG.
Boston Whaler has several models that can work well for fire department operations on waterways. Those models – Guardian, Justice, Vigilant, and Challenger –come in overall lengths ranging from 15-feet (4.69 m) to 31-feet (9.5 m), with overall beams of 6-feet (2 m) to 10-feet (3.2 m). Models come equipped with engines providing 60-700 horse power and carrying capacities of six to fourteen people, depending upon model selected.
The SAFE 29 Walk Around Cabin from SAFE Boats has a total length of 31-feet (9.5 m) and a beam of 10-feet (3 m). The boat comes with seating for six and can accommodate 25 total passengers and its engine delivers 600 HP. Its construction features include a pressure-tested air-tight hull, a reinforced keel beaching plate, and performance wings below collars for increased lift and stabilization while maneuvering.
The straight-line bow-to-stern profile of the R ONE Series of boats from One Boat makes it a versatile and stable operating platform. With One Boat's ONELink system, two or more boats can be assembled into a single unit for use as a temporary bridge for an emergency evacuation or operating platform for diving operations. There are a number of available add-on options for R ONE Series boats such as a fire pump (230 gpm at high pressure and 510 gpm at low pressure), a command console and a MARS light tower.
The Commander 27 from SeaArk Marine, Inc. is constructed with aluminium and has an overall length of 29-feet (9 m) with an overall beam of 10-feet (3.1 m). It can carry up to eight people and has a maximum horsepower of 516.
Crystaliner has manufactured boats for West Coast lifeguard departments and public safety agencies for more than 60 years. The Crystaliner 33 is a fiberglass craft with an overall length of 33-feet (10.17 m) and a 10-foot (3.25 m) beam. With a maximum of 760 HP, the craft can accommodate up to six people.
The 22' Riverine from Willard Marine features a fiberglass hull, an overall length of 22-feet (6.72 m), with a beam of 8-feet (2.59 m). The Riverine has a low draft that makes it suitable for operations in shallow and littoral (coastal) waters. The engine can deliver 400 HP and the craft can hold up to 15 people.
Willard Marine is the American manufacturer of SOLAS rescue boats. The SOLAS 670 fiberglass construction rescue boat comes with an overall length of 22-feet (6.83 m) and a beam of 8-feet (2.70 m). The craft can carry up to nine people and its engine provides 230 HP. In addition, the 670 is equipped with a self-righting system and a three-point lifting sling with a winch at the stern for easier and safer lifting of victims into the boat.
Lake Assault Boats manufactures a line of fire rescue boats in lengths 24-feet (7.3 m) to 36-feet (11 m) and beams of 9-feet (2.7 m) to 11-feet (3.4 m). Among the many available construction and equipment options is a V-hull with a landing craft style designed bow. This hybrid design enables the operator to beach the craft and unload personnel and equipment through the hydraulically-operated bow door.
For fire departments charged with providing service on bays, ports and harbours with significant commercial boat traffic a larger fire boat, with a length from 32-feet to 70-feet is needed. The Nautic Expo website lists fireboats of all types and sizes.
Fire boat propulsion systems
Parallel hybrid propulsion systems, like the HybridMaster available from Mastervolt, combine an electric motor with a combustion engine, and represent some of the newest vessel propulsion technology. This technology is similar to that used in hybrid autos, like the Prius.
The boat operator uses battery power to get out of the harbor and fires up the diesel engine when they need to fight against a big current or wind. The HybridMaster also has regenerative charging potential too, which feeds power back into the battery bank while the boat is being powered by the internal combustion engine.
Serial hybrid propulsion systems are like those that were previously used in diesel/electric submarines and are currently used in diesel/electric locomotives and ships. A serial hybrid system uses an electric motor as the full-time propulsion engine, with a gas or diesel generator to replenish the battery banks.
The electric motor is installed between the gas or diesel engine and the drive shaft. The motor typically requires a space less than 6-inches long and can work with gas or diesel engines up to 45 HP.
Size of an e-drive compared to a gas or diesel
Gas or diesel engines differ from electric engines when it comes to torque. The torque increases rapidly when the RPMs go up for a gas or diesel engine; revving the engine produces more power.
Conversely, an electric engine has a flat torque curve, meaning the boat operator gets all the available torque – at even the lowest RPM – when the operator needs it most. The upside is that a small electric motor can actually replace a much larger combustion engine.
A commonly accepted rule-of-thumb calls for about 1000 watts from a vessel's electric motor for every ton of displacement of your boat. The e-drive's shaft horsepower (shp) rating needs to be about one-third to one-half the brake horsepower (bhp) of the combustion engine it replaces.
For larger fireboats, the Voith Schneider Propeller is unique marine propulsion system that combines propulsion and steering into one unit. When combined with the Voith Radial Propeller and Voith Turbo Fin, the system generates stepless thrust in all directions with increased precision and speed. The Long Beach (Calif.) Port Authority took delivery of two new fireboats in 2014 that are powered by the Voith Schneider Propeller system.
References
1. Brunswick Commercial and Governmental Products. Boston Whaler Models. https://www.brunswickcgp.com/boston-whaler-models/
2. Nautic Expo. http://www.nauticexpo.com/boat-manufacturer/fireboat-35625.html
3. Voith. Vessel propulsion systems. http://voith.com/en/products-services/power-transmission/vessel-propulsion-systems-10334.html
4. West Marine. Choose an Electric or Hybrid Engine for your Boat. https://www.westmarine.com/WestAdvisor/Electric-And-Hybrid-Propulsion-Systems
5. Willard Marine. First Responder Boats. http://www.willardmarine.com/applications/law-enforcement-boats.html