University fire dept. debuts mini ambulance for large events
The MedStat ASAP MS250 is an all-wheel-drive utility vehicle that is the size of a Mini Cooper but can transport EMTs, a patient and a full-size cot
---
By FireRescue1 Staff
DAVIS, Calif. — A university fire department debuted a new mini ambulance that will be used to maneuver through large college crowds at events.
UCDavis.edu reported that the UC Davis Fire Department's MedStat ASAP MS250 is around the size of a Mini Cooper, but has enough space to transport EMTs, a patient and a full-size cot.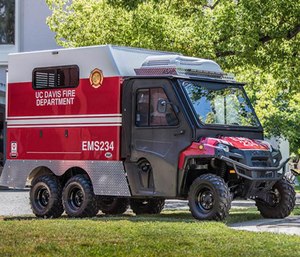 The all-wheel-drive utility vehicle will mainly be used for large events, and can even go off-road, according to Fire Chief Nate Trauernicht.
"Many of the events on campus have thousands of people and we don't want to be driving large fire trucks and ambulances through big crowds of pedestrians and bicyclists," he said. "The MedStat ASAP quickly, easily and safely gets to emergencies in crowded situations that other vehicles can't."
Chief Trauernicht said the MedStat will most likely be used to transport a patient out of a large crowd and into an open area so that a full-size ambulance can be used.
The vehicle will be used by standby EMTs at events such as football games and concerts. Chief Trauernicht added that it is already drawing attention from students, which makes it a good tool for outreach events such as CPR awareness.
"It gets a lot of looks and even more people asking questions about it," Trauernicht said. "Most are surprised when the rear roll-up door reveals that it is an ambulance."

Request product info from top Fire Apparatus companies
Thank You!