Firefighters should think like incident commanders, FDIC session told
Fire personnel of all ranks could make more confident and effective decisions at emergency operations
---
By Jamie Thompson
FireRescue1 Senior Editor
INDIANAPOLIS — Firefighters can enhance their safety on the fireground by thinking like an incident commander, a session at FDIC was told Thursday.
"If you get everyone at the scene thinking a little more like the incident commander, thinking a little more strategically as well as tactically, our operations will run a lot easier and more importantly I think you're going to be safer," FDNY Deputy Chief Thomas Dunne said.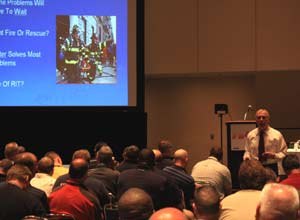 During the session, Chief Dunne outlined how fire personnel of all ranks could make more confident and effective decisions at emergency operations.
"Everybody at the fire scene should be able to think to some extent like an incident commander," he said.
The five major challenges for incident commanders, according to Chief Dunne, are:
Accepting the responsibility
Getting the big picture
Getting the specifics
Organizing
Calming the operation
These challenges and concepts all apply to firefighters, too, Chief Dunne said.
"When you're a firefighter advancing that hose line, all you can see is this little world," he said.
"If you're too much like a moth going to the flame, going to that fire, can we be missing some key things from the building?"
From a command post perspective, Chief Dunne gave his perspective on the COAL WAS WEALTH acronym, saying it does not work at the scene of an incident and warned against "paralysis by analysis."
"It's a good tool when the fire's over," he said. "It's worthless at a fire scene.
"The reasoning is that if you get bogged down with notes, with checklists, with excessive trivia at the fire scene, you're going to miss some key points at that fire."
Chief Dunne warned against "building a glass bubble around ourselves at a fire" by becoming bogged down with checklists and gadgets. These can be to the detriment of noticing factors such as changing weather conditions and being able to read the smoke, according to Chief Dunne.
The session was told about the importance of incident commanders not being inside the building, which Chief Dunne said is one the major problems that can occur at the fire scene.
"You cannot be an incident commander and be inside the building," he said. "If you're going inside the building, you have just lost your perspective of that building."

Request product info from top Incident Planning Software companies
Thank You!