PRESS RELEASE
Baltimore County Fire Department orders 23 custom Pierce fire apparatus
---
The 23 custom Pierce fire apparatus are to be delivered to Baltimore County by late 2024
APPLETON, Wis. – Pierce Manufacturing Inc., an Oshkosh Corporation (NYSE:OSK) company, announced the Baltimore County Fire Department (BCoFD) in Maryland has placed an order for 23 custom Pierce fire apparatus. This is the second substantial order for the department since 2019. BCoFD will have taken delivery of 55 Pierce apparatus in total by the end of 2024. 
The purchase of the new fire apparatus was managed by authorized Pierce dealer Atlantic Emergency Solutions in Virginia and is part of an initiative to improve the department's strategic emergency response in the communities they serve.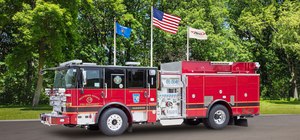 The most recent order includes ten Pierce Enforcer™ 750-gallon pumpers, six Enforcer 1,000-gallon pumpers, two Ascendant® 107' Heavy-Duty Tillers, three Heavy-Duty Rescue engines, one Heavy-Duty Rescue Unit, one Heavy-Duty Rescue Hazmat Unit, and one Freightliner tanker. 
"Our objective in purchasing the new apparatus is enhanced public safety," said Fire Chief Joanne Rund. "Baltimore County Executive John Olszeswki Jr. prioritized this goal and secured the necessary funding to upgrade the fleet to keep our communities safe for many years to come."
BCoFD's Fire Maintenance Fleet Manager Michael Huber said, "Crews are happy with the maneuverability and ease of use of Pierce fire apparatus. They are eager to put this most recent order into service."
Safety for fire and EMS personnel is a top priority for BCoFD. All the new fire trucks will be equipped with side roll protection and front airbags. Some units will contain decontamination showers.
"We appreciate Pierce and Atlantic Emergency Solutions working with us to meet our unique specifications and build the safest equipment for our crews," Huber added.
Baltimore County Fire Department's new fire apparatus replace aging units which no longer meet the needs of the department and will help improve tactics in emergency response situations.
All new fire apparatus feature a new black-over-red paint color scheme, a visible representation to the community that BCoFD is working to keep them safe.
The Baltimore County Fire Department serves a population of nearly 850,000 people and responds to approximately 150,000 incidents annually. The department has more than 1,000 sworn and civilian personnel based at 25 career and 29 volunteer fire companies. 
"Working with the Baltimore County Fire Department to upgrade and improve their fleet has been an honor, and we are proud to have earned their trust by providing quality solutions and dedicated service," said Bob Rosensteel, regional account manager for Atlantic Emergency Solutions. "Now operating a full Pierce fleet, with some in reserve, having a manufacturing partner who listens to their needs with convenient service center access are critical factors for Baltimore County as we work to place 55 new fire apparatus in service within the next few years. We are committed to being a trusted resource every step of the way." 
For a comprehensive review of Pierce pumpers, rescues, and other products, visit www.piercemfg.com for specs, video, and images. 

Request more info from Pierce Manufacturing
Thank You!