CMW Products Releases New Mounting Option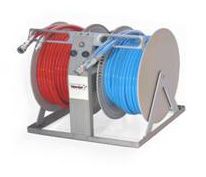 Clarksville, Tenn. — CMW Products, manufacturer of the highest quality, lightest and most compact rescue reel in the world, has introduced a new mounting option for their complete line of reels.
The new configuration comes with breakers, buttons and rewind guide installed. It can be easily mounted in a front bumper or overhead inside a compartment placing the control buttons within easy access for rewind. The angled front guide support allows for clearance between lid and hoses when used in a front bumper application. Installation time is reduced because the reel is pre-wired, and requires no relays or large wire for operation.
Just like the space saving concept of our Vegas style reel which allows mounting of one dual reel in a transverse compartment taking one hose out each side, this new mounting option is in keeping with the company's philosophy using customer feedback and incorporating it into our product design.

"Because of budget constraints, everyone is trying to get more equipment on their truck, and this is where our compact, lightweight design works " says Director of Sales, Lisa Rogers.
About CMW Products
Custom Machine Works (CMW Products) was formed in 1988 to supply the industry with the highest quality machined products. Today all design, programming, and manufacturing are done by our in house staff. For more information go to www.cmwproducts.com or call 931-853-7177.