PRESS RELEASE
SVI Trucks to launch East Coast demo truck route
---
Medium rescue to make three show stops from May to August.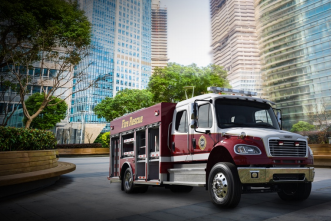 HARRISBURG, Penn. — SVI Trucks, a Colorado fire truck manufacturer, is partnering with dealers Campbell Supply, Co., RedStorm Fire & Rescue and Atlantic Coast Fire Trucks to launch an East Coast demo truck tour from May 18 to Aug. 11.
The truck will make three show stops, starting May 18-20 at the Pennsylvania Fire Expo in Harrisburg, Pa., stopping June 13-16 at the N.Y. Chiefs Expo in Verona, N.Y., and wrapping up Aug. 8-11 at the South Atlantic Fire Rescue Expo in Raleigh, N.C. Additionally, SVI is working with these area dealers to coordinate individual demos for departments that want to see a private viewing of the truck. Night demos of the tower can also be arranged. To schedule a demo, contact Rafe Briges at rafeb@svitrucks.com.
The SVI Medium Rescue demo truck is built on a Freightliner M2 106, four-door chassis and features ROM roll-up doors, OnScene Solutions LED compartment lights, Command Light CL Series light tower and a host of other features. To view the full specs, svitrucks.com/portfolioitems/2017-medium-rescue-demo-1011.
About SVI Trucks 
SVI Trucks, a Super Vacuum Manufacturing Company located in Fort Collins, Colo., builds custom fire apparatus, including rescue trucks, hazmat units, command vehicles, fire engines, tanker trucks, law enforcement vehicles and more. To see SVI's full fleet, visit svitrucks.com. To browse drawings, features and specifications of a truck, visit SVI's Apparatus pages and click on any truck image.

Request more info from SVI Trucks
Thank You!