Researchers study health impacts of Calif. wildfires on firefighters
Blood and urine samples from 200 firefighters were taken to study how harmful smoke exposure really is
---
By FireRescue1 Staff
BUTTE COUNTY, Calif. — Researchers are taking samples from firefighters who battled recent wildfires to study the health impacts.
Action News Now reported that 200 samples of blood and urine were taken from firefighters by researchers to get a better idea of how harmful the smoke exposures from the wildfires were.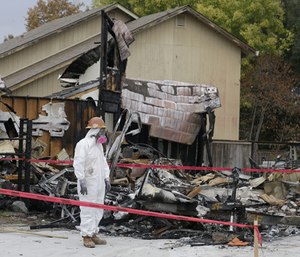 "It went from organic material to structure fire, and you have thousands of homes then up in flames as opposed to one structure fire. You are exposed to all that smoke," Cal Fire Butte County Captain John Gaddis said.
Capt. Gaddis added that a database is kept that documents what the firefighters are exposed to.
"If you come across something, whether it's smoke or blood born, it's put in a computer database, and they maintain that database right up until you retire," he said.
Captain Joe Chavez said the danger of exposure is only getting worse due to synthetic material in home furnishings.
"The fuel loads inside the homes now are basically one or two molecules away from being gasoline," Capt. Chavez said. "You're still absorbing that through your skin, your body does absorb those chemicals, and you're not in a bubble."

Request product info from top Fire SCBA companies
Thank You!