Scott Safety launches in-mask TIC
The in-mask thermal imager hit the market after a year of development
---
Scott Safety debuted Scott Sight, what it says is the industry's first thermal imaging camera linked to an SCBA mask.
The TIC, about the length and width of two fingers, attaches to the outside of the mask and sends an image via Bluetooth to the inside bottom corner of the SCBA mask.
The display can be adjusted within the mask. It was also designed to accommodate both near- and far-sighted firefighters.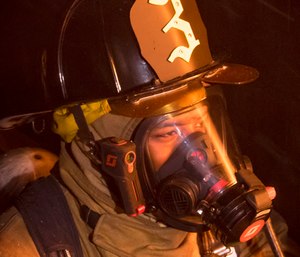 The launch marks a year of development and beta testing with 100 firefighters, as well as getting design feedback from 500 firefighters. It was a project the company said they were pursuing at last year's FDIC.
"Last year I didn't know we'd be able to accomplish this in 12 months," said Kim Henry, Scott's director of growth initiatives. It was her team that was tasked with developing Scott Sight.
The unit doesn't come cheap. The mask with TIC sells for about $1,500; $1,900 buys the mask, TIC and SCBA harness. A standard mask sells for about $400. Scott Sight will carry the company's standard two-year warranty that it offers for other electronic equipment.
Scott is offering an upgrade kit for those with 2007-edition masks to bring those up to 2013 safety standards, including the TIC technology.
The TIC weighs 8 ounces with its AAA batteries and has a 160x120 resolution at nine frames per second. It has configurable settings for spot or ambient temperatures.
Scott is selling the masks now, but expects to begin delivery later this summer once it receives its NFPA certification.