PRESS RELEASE
Deccan International addresses top fire chiefs on issue of firefighter fatigue
---
CTO Raj Nagaraj shares ways technology can help mitigate fatigue impact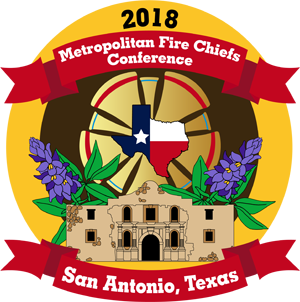 SAN DIEGO — An educational session on "How Technology Can Help Fire Chiefs Manage the Issue of Firefighter Fatigue," was presented by Raj Nagaraj, Chief Technology Officer of Deccan International, at the Metropolitan Fire Chiefs Conference in San Antonio on May 7, 2018. The session included data on the effect of fatigue on firefighters and ways to use technology to address the problem.
Deccan has been a supporter of the Metropolitan Fire Chiefs Conference since the mid-1990s and participated as an Elite sponsor for the second year in a row. The event serves as a gathering of fire chiefs from the largest cities and counties in North America, allowing them to collaborate on common issues. This year, firefighter wellness and behavioral health were among the important themes of the conference program.
"Our focus has always been on listening to the chiefs and helping solve their unique challenges and needs, whether it's real-time decision support tools, response time improvement, or providing powerful analytics," said Nagaraj, who co-founded Deccan International in 1995. "The issue of firefighter fatigue is something many fire and EMS chiefs are grappling with, and we were glad to share ideas on how to address the problem."
Nagaraj talked about key fatigue factors that Chiefs need to be aware of, including heavy workload, use of fatigue countermeasures, time-of-day operations, physical environment and vigilance requirements.
In addition, he provided insight about how technology can be helpful in fighting fatigue.  Nagaraj pointed to specific tools that can help mitigate challenges, such as the use of fatigue rules in staffing software, optimal staffing for peak demand units, real time supervisor alerting of high fatigue score crews, and optimal relief assignments which do not compromise coverage.
Deccan serves more than 200 clients across North America and Australia, including some of the largest metro fire and EMS departments. Those departments are increasingly using Deccan's decision support tools and analytics to effectively manage operations, enhance personnel safety, and serve their communities safely and cost-effectively.
Many of the fire departments at the Metro Chiefs event also attend Deccan's annual conference, Deccan2018: Driving Innovation in Fire & EMS Analytics. Deccan2018 takes place Sept. 5-7, 2018, in San Diego at the Manchester Grand Hyatt. The event is a key annual gathering for leaders in Fire and EMS data and analytics. More can be found at www.deccanconference.com.
About Deccan International
Deccan International has served the Fire and EMS industries for more than 20 years, providing custom-built software tools to effectively manage daily tactical decisions and help leaders make the best possible long-term planning decisions for their communities. The combination of smart, custom software and a committed team of dedicated project managers and analysts sets Deccan apart and ensures the best investment for Fire and EMS leaders.
To learn more about Deccan and its products, please visit www.deccanintl.com.