How alternative therapy providers helped exhausted Calif. firefighters
The Integrative Healers Action Network provided services to help support acute and chronic pain, stress management, restful sleep and lung injury from excessive smoke
---
After weeks of back-breaking and exhausting work fighting the Northern California wildfires that erupted on Oct. 8, firefighters are being cared for in a different, unique way.
The Integrative Healers Action Network, a collection of decentralized organizers and practitioners seeking to provide much-needed support and relief to those in need, came together to help the helpers by offering:
Massage therapy
Acupuncture
Naturopathic medicine
Chiropractic care
Herbal support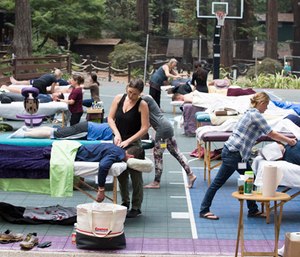 Jenny Harrow, MA, who holds a Master's Degree in Integrative Health Studies from the California Institute of Integral Studies; and Dr. Jen Riegle, ND, who is a licensed Naturopathic Doctor with a degree from Bastyr University, saw a need to help the firefighters recover from their exhaustion, pain and stress.
"In a short amount of time, we had many people contacting us who wanted to provide support to not only the evacuees, but the firefighters, first responders, military, medical teams and other support personnel," Harrow said.
Harrow, the operations manager and integrative health coach for Flourish Integrative Health in Santa Rosa, Calif., said they started collaborating with other organizers in the community and pulled together a fairly unified response.
For several days and evenings in a row, for about two weeks, Harrow said their community established integrative healing clinics at not only shelters for evacuees, but firefighter resting places, armories for the National Guard and hospitals. 
"We wanted to provide physical and stress management support to the multitude of first responders that were working so tirelessly to save our community," she said.  
Harrow said that many hundreds to a thousand firefighters were given healing services by practitioners in the community.
Providing alternative therapy
The wildfires have killed 43 people and destroyed nearly 9,000 homes and businesses. During the fire fight, thousands of firefighters battled blazes in the Sonoma and Napa counties. The wildfires are being called the deadliest and most destructive the state has ever seen.
Almost a month later, fire officials said crews expect to contain the fires this week. Many firefighters have worked long hours, spent time away from their families, and some have even lost their homes and fire stations to the fires.
Viral photos posted on Facebook by the Sebastopol (Calif.) Fire Department showed firefighters taking a break from battling the intense wildfires. Crews were stretched out on the ground with rocks as pillows before getting back to work.
"We have slept off and on throughout the incident in engines, pickups, hose beds, etc.," Rincon Valley (Calif.) Fire Protection District Firefighter Fred Leuenberger told FOX4KC. "There have been few breaks, just enough to get home and check on family."
On Instagram, Leuenberger posted a photo, saying the "firefighters have committed to this community … despite devastating personal losses."
He said throughout the fire fight, he did not "hear a single complaint or selfish word."
This extreme exhaustion was not just limited to this specific crew; a total of 11,000 firefighters have helped battle the fatal fires. Harrow said the firefighters' unselfishness was one of many reasons behind the driving force of providing alternative therapy to as many responders as possible.
"These services help support acute and chronic pain, stress management, restful sleep and lung injury from the excessive smoke and long hours of work often experienced by firefighters," Harrow explained.

Harrow said practitioners have been not only willing, but excited to give back to the firefighting community.
"There was such an immense response from healers that we were inspired to create a website that lead practitioners to places of need," Harrow said. "To provide support to firefighters from not only all over the country, but the world, was an incredible honor."
The community of bodyworkers and practitioners volunteered their time and energy to help firefighters serving in Sonoma County. Harrow said firefighters thanked them for their support and assistance.
In fact, several firefighters, Harrow said, shared that it was their first time trying many of the healthcare modalities, including massage.
"Others shared that they had never experienced support and generosity like they experienced here in Sonoma County," Harrow added.
Grassroots movement
The entire movement to help provide healing services to firefighters was very grassroots and decentralized, Harrow said.
"We were just a part of that," she said.
As a fairly new organization, Harrow said they are meeting with other organizers to see how to best collaborate and share a vision.
Their vision, she said, is to provide long-term sustainable care in the community and create systems for integrative healing emergency response that can be replicated in other disaster relief efforts.
"In this grassroots movement, it all started with a Facebook page that was created by Tali Weinberg, who we have collaborated with in this effort," she said. Weinberg, who started the Bodyworkers and Practitioners for Sonoma County Shelters Facebook page, was one of the original organizers the Integrative Healers Action Network collaborated with.
Overnight, about 1,000 people joined the Facebook page. Now, Harrow says there are over 2,100 people, who are all healers, looking for a way to give back to their community.
"We would love to continue to collaborate with firefighters and first responders to provide care when it is most in need," she said. "We welcome any conversations about this with the fire community."