FHinspector app takes the busy work out of inspections
With the flick of a finger, FHinspector cuts through the usual mess of inspection paperwork by cleanly tracking and accessing key information
---
A new addition to the slowly growing stream of public-safety-focused mobile apps was released this month: the FHinspector for the iPad.
Made by the Firehouse Software team at Affiliated Computer Services, Inc. — known for their robust Firehouse records management software — FHinspector uses the iPad's user-friendly interface and GPS technology to full effect, offering a dynamic and dead-simple user experience.
With the flick of a finger, FHinspector cuts through the usual mess of inspection paperwork by cleanly tracking and accessing key information such as building details, evacuation plans and even hydrant locations.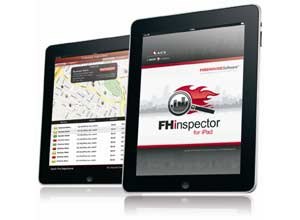 And by syncing with ACS' Firehouse software at the station, FHinspector, inspectors no longer need to print a stack of inspection forms before going into the field. FHinspector queues your company's list of inspections and loads them on your iPad, which are then accessed and completed in the field
Once each inspection is completed — or at the end of a shift — the app syncs again with the Firehouse system (either from the inspection site using AT&T's 3G network or back at the station) creating a backup of the data at headquarters. Companies working on Verizon contracts can also sync using their proprietary mobile wireless connection cards.
Firefighters who have used the app say it's a hit.
"It's a home run," says Charles Albert, Chief of Administration at St. George Fire Protection Disctrict No. 2 in Baton Rouge. "It provides access to all the information we're currently collecting using pen and paper, a system that causes complications in and of itself."
FHinspector displays all the necessary business information inspectors need, including preplan details, inspection, and permit history for buildings.
Albert says that users with whom he's spoken have been impressed by the easy-to-use iPad interface, low weight of the machine, and the utility of the electronic keyboard.
"They like the slimmed-down approach of how you can move between checklists and enter data," he added.
FHinspector offers pre-defined inspection checklists, where each item is linked to specific violation codes. Inspectors click "Yes" or "No" for each item on the checklist, and if the answer is "No", inspectors are required to enter a note using the iPad's electronic keyboard. Checklists can also be customized based on the needs of each company.
At the end of each inspection, FHinspector displays a clear summary for review with the responsible party. The summary allows inspectors to edit contact information or other details, set a date for reinspection, and even capture the responsible party's signature.
It's an elegant alternative to the tedious paperwork with which inspectors are often faced.
Sanjay Kalasa, Vice President of Firehouse software, says that because users are increasingly familiar with the Apple interface — which more and more smartphones have begun to mimic — it's been very easy for newcomers to adapt to this system.
"FHinspector is designed for fast data entry where users can go from occupancy to occupancy very quickly," Kalasa said.
It may be user-friendly, but the old pen-and-paper inspection system has been in place for a long time and it'll probably take some time before users are fully comfortable managing their inspections through an iPad app.
"There have been some learning curves — it's a change in how we're doing things, which takes some time," Albert said. "But, once you get through the learning curve, it's very user friendly, very firefighter friendly."
Firehouse is looking to branch into other mobile platforms, including Android, if their hardware seems like it could be a good fit. Kalasa said they will closely monitor the level of demand for the app on other platforms.
At $500 for the app, plus a hardware price starting around $500 for the iPad, the FHinspector is a low cost way to dramatically streamline your inspection system.
It's a cost that Albert says is well worth it.
"It provides another level of efficiency in the operations of a fire department," he said. "Anything we can do to make the capturing and retrieval of data less painful is good."
The app joins several fire service related apps on the phone market, including FireRescue1's own free app.
ACS is a leading provider of fire and EMS software solutions with more than 15,000 customers in the United States along with U.S. Department of Defense installations around the world. You can find them on the Web at www.acs-inc.com.

Request product info from top Fire Software companies
Thank You!