Finding fitness just a game for innovative departments
---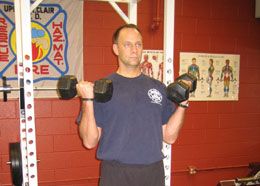 Photo courtesy of Mike Russell
Mike Russell, who heads Upper St. Clair, Pa., Fire Department's fitness initiatives, works out at the department.
When more than one-third of Chief John Kachanuk's volunteer members failed their annual fitness check, he knew he faced a major problem.
To make matters worse, the easiest solution — running — was not an option as many of the firefighters would not participate in the workout.
But Kachanuk was able to resolve the fitness issue at Havana, Ill., Fire Department by taking a different approach: Basketball.
Over the next several months, nearly the entire 17-person department turned out every Sunday at the local junior high school to shoot some hoops.
"At the next fitness test, everyone passed with flying colors," Kachanuk said.
The approach he adopted after the failed tests about three years ago reflects a need in the fire service to be proactive and flexible in addressing fitness problems.
"A lot of guys find it hard to go home and then put their running shoes on and go out for a run," Kachanuk said. "This gave them the chance to do something with their department."
He added that the emphasis on teamwork in the basketball sessions was a decisive factor in their success.
"What was best is that we encouraged each other," he said. "If someone didn't show up one Sunday, they always got a phone call asking where they were. They always came back as they didn't want to let
everyone else down — it's the same at a fire scene."
More strenuous
While the games have trailed off in recent months due to members' work commitments, their time in the gym allowed them to build up their base fitness levels and begin to enjoy more strenuous activities.
The department has added a weight room and one member has taken part in the Chicago Marathon.
During the basketball games, Kachanuk encouraged firefighters' spouses and children to come along, too, to get them involved and promote fitness for the entire family.
The family approach to fitness has also been adopted at the Upper St. Clair, Pa., Volunteer Fire Department.

Firefighter Mike Russell, 41, who heads the department's health initiatives, said getting partners involved and fit means it is easier for members to improve and maintain their own fitness levels.
The key to promoting fitness levels in firefighters, said Russell, is to ensure workouts involve a specific challenge — and, where possible, a reward at the end of it.
One of his initiatives was a treadmill challenge, where members were encouraged to complete 100 miles over several weeks.  When they succeeded, they were awarded points — normally given for community service activities — that went toward buying firefighting asscessories or PPE not issued by the department or toward the purchase of fire company logo apparel at the department's "store."  
"As a volunteer department, it's always very difficult to try to get the guys to participate in additional things outside of fire calls and training," Russell said. "So, you need to find ways that encourages them."
The department also takes part in a promotion at a local gym that offers participants prizes — such as tickets for Pittsburgh Pirate games — for completing specific cardio workout challenges
In addition, members have been encouraged to become involved in the NVFC's Fired Up for Fitness Challenge. The initiative allows firefighters to register their fitness activities and compare them with counterparts from across the country.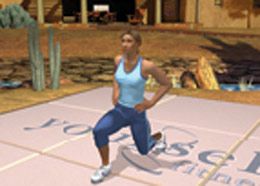 Photo courtesy of ResponDesign
Chicago firefighters have been given copies of Yourself!Fitness, which features virtual reality instructor Maya.
New approaches
Maggie Wilson, director of health and safety at the NVFC, said departments were becoming more innovative in their approaches to fitness.
"Being fit and healthy can be achieved in more than one way," she said.  "Creating innovative way of making this happen definitely helps.
"Many fire departments institute their own challenges to give getting fit a more competitive, fun element."
It is not just volunteer fire departments that are taking a fresh approach to fitness.

One of the country's largest fire departments, Chicago, began working with video game designers ResponDesign, Inc. in 2004 to offer its firefighters access to a fitness computer program.
All firehouses in Chicago were given copies of the Yourself!Fitness program, which features a complete fitness analysis, personalized goal setting options, a customized meal planner and multiple workout environments.
In addition, a digital fitness instructor named Maya serves as the player's guide in leading him or her in a series of exercises that is specially tailored to the player's goals.
"The program is very well-suited to firefighters for many reasons," said Daniel T. Wood, chief marketing officer at ResponDesign, Inc.
"Maya can store multiple profiles based on a single, physical game so the entire squad can potentially use the same copy and Maya is ready any time and without any notice."
Because of the limited number of video game consoles at stations, ResponDesign, Inc. is now providing the department with copies of the PC edition for laptops.
"ResponDesign is extremely pleased and flattered to have firefighters and first responders using the game," said Wood. "We are excited to know that Maya could be helping others to save lives."

Request product info from top Fire Software companies
Thank You!