PRESS RELEASE
Knox partners with National Fallen Firefighters Foundation
---
Phoenix, AZ - As a major component of the Knox Company's continued commitment to reducing firefighter risks, a partnership with the National Fallen Firefighters Foundation (NFFF) has been formally established. The two organizations share many important synergies along with the goal of reducing risks that firefighters face daily.
"In the development of each rapid access product, increasing firefighter safety has always been one of the Knox Company's primary objectives," says Joni Trempala, President of the Knox Company. "The opportunity to be a partner with the NFFF and to provide support is a small way for us to demonstrate our respect and honor for those that have died in the line of duty; while providing some comfort to their surviving family members."
The partnership includes a general donation to the NFFF, as well as a donation earmarked for the National Fallen Firefighters Memorial Weekend held annually in Emmitsburg, MD. That weekend provides a time of sharing and healing for families and co-workers of firefighters who have died in the line of duty.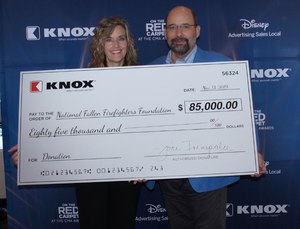 Included in the tribute for those being honored are Honor Guard and Pipe Band Units from throughout the nation. Every year families express their gratitude for the love and honor bestowed at the national tribute for their family member.
"The National Fallen Firefighters Foundation thanks the Knox Company for their generous donation and support," said Chief Ronald J. Siarnicki, Executive Director of the National Fallen Firefighters Foundation. "They have been supportive of firefighter safety for more than 40 years and we welcome their participation with the Foundation."