Fla. fire dept. gets equipped with body armor
The St. Augustine Fire Department recently added a supply of body armor and helmets to each of their trucks
---
By Jared Keever
The St. Augustine Record
ST. AUGUSTINE, Fla. — As the number of public and mass shootings continues to climb, those tasked locally with helping save lives on a daily basis are now taking measures to protect themselves should the worst happen here.
The St. Augustine Fire Department recently added a supply of body armor and helmets to each of their trucks to protect the men and women who would respond to such an event.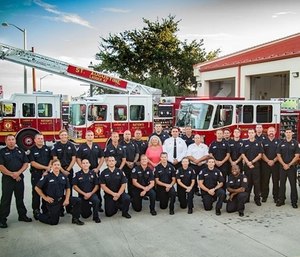 It is a new level of preparedness that Fire Chief Carlos Aviles said he feels is necessary these days.
"[It's] just the increase nationally in active shooter events," he said earlier this month as a few men from his department and some St. Johns County firefighters worked with the new gear.
He's not alone in thinking that way.
St. Johns County Fire Rescue personnel have carried similar gear for a few years now, though a representative from that agency said battalion chiefs carry the protective equipment (rather than having each truck equipped) so it can be passed out quickly should a situation warrant it.
And earlier this year, Aviles said, the National Fire Protection Association released a new standard for active shooter incident preparedness that included guidelines for the gear.
That came as others throughout the state had already begun making the addition in the wake of several high-profile incidents.
Broward County firefighters added body armor and helmets to their department last year, according to a September 2017 story from the Sun-Sentinel.
That story, which predated the Marjory Stoneman Douglas High School shooting that rocked that county, listed the shooting at the Pulse nightclub in Orlando in June 2016 that killed 49 people as among the reasons for the move.
And it was a move, the story pointed out, that had already been made by the Orlando and Orange County fire rescue departments that responded to that tragedy.
It wasn't long after the Pulse shooting that Orange County Chief Otto Drozd started an effort, not only to fully equip his own men and women, but also get others across the country thinking about how to prepare for such events.
That helped lead to the new NFPA standard.
In October 2016, Drozd told the Orlando Sentinel he was pushing to make the gear standard in his department and information available through the NFPA's website says development for the new standards came about, at least in part, because of an April 2017 request from Drozd to "develop a standard for preparedness and response to active shooter scenarios and events."
By the end of that year, NFPA officials had agreed to fast-track the development of the new standard.
That, according to a January release, was only the second time in the agency's history they chose to authorize a provisional or "abbreviated" standards development process.
The release cited the Pulse shooting as well as the October 2017 Las Vegas shooting that killed 58 and wounded more than 400 and another in November of that year at a church in Sutherland, Texas, that killed 27 and injured 20 more as reasons for the need to move quickly.
Aviles said that in response to such incidents, as well as because of the information in the new standard and in consideration of the number of outdoor and public events hosted within the city, he continues to work with local law enforcement officials including St. Augustine Police Chief Barry Fox and county officials to be sure everyone is prepared.
"There is no event of this type that would be just our agency responding," he said.
Aviles said about half of the money for the new equipment came from the agency's budget. The other half came from the St. Augustine Police Department's confiscated property funds.
Copyright 2018 The St. Augustine Record
McClatchy-Tribune News Service