Texas firefighters equipped with body armor
Every fire engine and fire truck has been equipped with five vests, with a total price tag of $40,000
---
By Lucinda Holt
Lubbock Avalanche-Journal
LUBBOCK, Texas — Lubbock Fire Rescue officials are taking a better-safe-than-sorry approach to protecting first responders, announcing on Wednesday the addition of ballistic vests into their array of gear.
 LFRs Capt. Kevin Ivy said the use of the body armor went into effect this week. Now, every fire engine and fire truck has been equipped with five vests, with a total price tag of $40,000 in a move that at least one other area department is considering.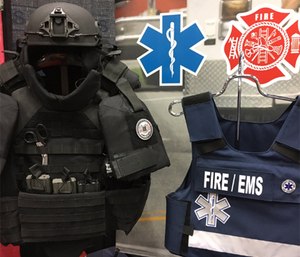 The cost, Ivy said, is minimal when it comes to protecting the department's men and women.
"We haven't had a problem here, or we haven't had an instance where one of our first responders was attacked or injured in that way," he said. "But there's always that first time, so we just want to prepare."
The ballistic vests, which weigh about 20 pounds and will be visible to the public, will be used by all fire and EMS personnel due to what LFR leaders see as an increase in violence across the country.
According to Ivy, the initiative is backed by the International Association of Fire Fighters and the International Association of Fire Chiefs and has been tested in Lubbock for about a year.
During this time, four engines carried the vests. Personnel tested different versions of the armor in an effort to pick the best one for the job.
Levelland Fire Marshal Jay McKay said the Levelland Fire Department has considered obtaining similar gear; however, officials are still in the midst of conducting research for grant funding and exploring types of vests.
With about 90 percent of the department's firefighters — both full time and volunteers — on board, he said vests would be provided for everyone at the department if funding is eventually obtained.
As of now, they are not using body armor.
"That would probably be something that we will look into in the future in order to get our people equipped with the basic body armor, at least," he said. "Especially with the way things are getting these days."
LFR officials are in the process of developing policies and procedures, which will lay out the guidelines for the use of the vests, said Ivy.
For now, the use of the vests is, for the most part, at crew members' discretion as they receive information about calls from dispatchers.
Calling the armor "frontline PPE," meaning personal protective equipment, he emphasized firefighters and EMS will not go into any risky situations that have not been cleared by Lubbock police.
And while those high-risk situations are dangerous for everyone, he said it is often everyday, low-risk calls where first responders are injured.
According to an LFR news release, there are multiple instances in which a firefighter will wear body armor, as safety is the top priority for the department.
"As a good practice with every incident," the statement reads, "bystanders are asked to keep clear of the scene and allow the first responders room to help the individual in need."
The announcement on Wednesday, Ivy said, came in an effort to alert citizens of the new vests as to not cause any concern or alarm in reference to the new procedure.
Firefighters Brian Faz and Russ Hale wore the tactical-looking vests, which will include a red patch with "FIRE DEPT" written in white lettering.
With firefighters often wearing gear totaling up to 70 pounds, Ivy said, the weight of the vests "won't be much" extra burden, as it will be worn to protect vital organs.
"Most of the firefighters," he said, "they realize that it's coming. We do know it's an added level of protection, but at the same time we're not going to charge into places where we shouldn't. We're gonna wait until it is safe for us to go — for the Lubbock Police Department to clear it before we do, but the general feeling is that a lot of the guys are happy that this is coming out."
Copyright 2017 Lubbock Avalanche-Journal