Buying your wildland line pack: Weigh the options
---
By Gale Dashner
The Supply Cache, Inc.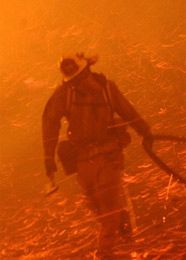 Photo Mike Meadows
A firefighter is pictured at the scene of a SoCal wildfire in November last year.
As wildfire season approaches and you start to prepare for your firefighting needs, there are many factors to consider before purchasing a proper line pack. Whether you are buying a pack for yourself or trying to decide which one is best for your department, there are some key things you should think over before making your final decision. Being informed about the products you have to choose from will help make those decisions a little easier for you.

First, remember that personal preference is a top priority during this entire process of narrowing the scope in deciding which line pack is right for you. To help make a sound and reasonable decision, you must first ask yourself some pertinent questions. The type of wildland fire crew you are on is a determining factor that will help steer you in the right direction for pack purchasing. Think about your crew's main operations. Do you generally use different equipment for different field operations and tasks? Is your field of scope always changing or does your primary job stay fairly consistent?

Crews that execute much versatility with their duties and many engine crew personnel tend to prefer a detachable day pack. These have all the benefits of a non-detachable, with the added ability of being able to break away the main pack from the harness system. With the pack off but the harness still in use, the wildland firefighter is able to continue fighting fire with the required fire shelter and it still allows for the hydration pouches to be right at the firefighter's fingertips.
Added convenience
Engine crews have the convenience of storing the main pack portion in their engine while using the harness system to fight fires safely and aggressively without the added weight of the gear that the truck can carry for them.
Multiuse crews such as urban interface and USAR teams benefit from the detachable-style packs as well. With their ever changing duties, one or two zips will free them from unnecessary gear. Conversely, one or two zips can add on that pack with all the extras they might need for extended attack on fires or longer search and rescue missions.

The non-detachable style of day pack tends to be less expensive due to the lower complexity in the manufacturing process — but product is not affected. Pricing is always an important part of decision making and you must evaluate honestly what is fair and just in your budget for the cost of your pack. There are many firefighting equipment costs, but the cost of your fire pack is not one to take lightly.  
Generally speaking, hotshot, helitack and hand crews tend to desire the non-detachable packs. These crews are generally called out for long extended fire details and are often exposed to weather elements without much assistance. Carrying sunscreen, rain gear and perhaps an extra set of dry clothes is vital. Extended stay crews need to be prepared to be self sufficient for 24 to 48 hours in the woods. This means they need to carry extra PPE in case of failure (such as spare radio batteries and headlamp batteries, an extra pair of gloves, spare goggles, boot laces, etc.) and enough food and water for the duration before being resupplied. Other pack items may include any other necessities or desired goods such as:
A brush jacket
Toiletry items
Vitamins/medications
First-aid kit
Headlamp
P-cord, compass
IRPG
Fusees
Earplugs
Water purification tablets
Bug repellent
Panel marker
Weather observation pad
Unit log notebook
Manifest pad
Extra pair of socks
Warm stocking hat
Again, keep in mind that personal preference is a key point and that it is up to each individual and crew supervisor to determine what type of pack will best be suited for their needs and desires. Many multi-personnel crews generally prefer conformity as far as brand and color of gear goes. However, there is a growing trend even with these types of crews to ascertain that level of conformity while having a diverse choice of fire packs available for their crew members. As an understanding of line gear comfort and effectiveness for each individual firefighter is recognized, crews are expanding their diversity of merchandise within their own departments and sects to accommodate each person's needs.

Considering your job duties — do you want/need a detachable or non-detachable pack? — and appreciating what you can afford to spend on a line pack are both good leads for the beginning of your line gear search. In addition, there are others questions to consider that can help to guide your choice:
Would you prefer a pack that has an internal hydration pouch as well as the external canteen pouches or are the external canteens alone sufficient?
Do you need a pack that rides on your lower lumbar or would you prefer a backpack-style line pack?
Would you like or need covered fusee pouches?
What overall cubic inch size of the main pack do you need? Does your department or crew require your gear to be NFPA certified?
Currently, there is one manufacturer that has NFPA certified wildland fire packs available. Other pack manufacturers are following suit with this certification as well, as the demand of this caliber of testing on equipment is expanding.

With the vast variety of fire packs available, all of the points highlighted in this article will help you to determine which one is right for you. There is a plethora of pack brands, styles and add-ons to get each firefighter the line gear that fits their requirements and desires. Think carefully, choose wisely and happy shopping!

Gale Dashner spent four years as a wildland firefighter at the Department of Natural Resources in Minnesota and three years on a helitack crew in Colorado before joining The Supply Cache, Inc. The company was formed in 1990 in Colorado by two wildland firefighters, Jim and Diane Felix, and supplies a range of wildland gear. For more details, go to Firecache.com.

Request product info from top Fire Bags and Cases companies
Thank You!