Groves debuts hand-powered LDH roller
The company is looking to incorporate a trailer hitch that will allow it to be pulled to the fire scene by a support vehicle
---
Draining and rolling a 5-inch supply hose after a fire is about as much fun as, well, draining and rolling a 5-inch hose.
Groves Inc., best known for its Ready Rack gear lockers, designed and built a four-wheel hose roller with a hand crank that allows one firefighter to drain and roll LDH in less time and with less effort than the old-fashioned way.
The unit measures about 4 feet tall, 4 feet long and 2 feet wide. It weighs about 90 pounds without hose. To make it work, a firefighter fishes one end of the hose through the double rollers and cranks the handle while pushing the cart toward the hose.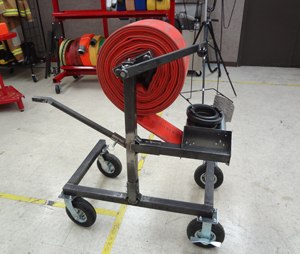 Groves President John Groves says a local fire department tried the unit during the design phase and liked it so much they didn't want to give it back.
The company is looking to incorporate a trailer hitch that will allow it to be pulled to the fire scene by a support vehicle. It is also collapses to fit in a truck bed or trailer.