How the Halligan tool changed the firefighting game
The Halligan tool has been an important part of a firefighter's toolkit from initial creation to present
---
The Halligan tool, sometimes called a Halligan bar, was invented in the late 1940s by FDNY Fire Chief Hugh Halligan. The Halligan tool is considered one of the most effective forcible entry tools firefighters can have at their disposal. 
The Halligan Tool came about by necessity 
Prior to the Halligan tool, firefighters typically carried a Claw tool, and a Kelly tool. The designs of these tools were imperfect. They were heavy, and left little margin for error, making them troublesome. Many firefighters who used these tools were left with elbow and arm injuries.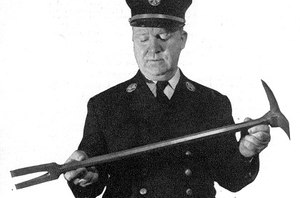 Chief Halligan recognized the shortcomings of the Claw and the Kelly tool and developed the Halligan tool, which is comprised of three, much lighter components: 
Adz – for prying and additional leverage
Pick – for quickly breaching locked doors
Fork – for breaking latches and locks 
At the time of its creation, a standard Halligan tool was approximately 30 inches long and weighed about 8.5 pounds. 
As with all great technology, forcible entry tools have evolved 
The Halligan tool was designed with an eye toward maximum utility, efficiency and speed for the purpose of forcible entry and emergency demolition. Original Halligan tools are no longer produced, but iterations of it are.
Small hydraulic-assisted tools used to gain entry, like the Rabbit tool, are now commonplace. Even as forcible entry tools become more mechanical, firefighters must always know how to use the tried-and-true forcible entry tools, like the Halligan tool, to gain entry should a mechanical device fail.
Modern applications for the Halligan tool have evolved
Though the Halligan tool was originally conceived of as a forcible entry tool, its versatility has led to recognition for a range of emergency applications. In addition to locked doors, the Halligan can be used to open padlocks and break chains. And in particularly difficult forcible entry scenarios, the Halligan can also be used to remove hinge pins or even an entire door. 
Other popular applications of the Halligan tool include:
Cutting bolts
Prying windows open
Leveling and securing a ladder
Clearing window and door frames prior to entry
Providing foot support when on a roof
Demolishing interior walls
Turning the gas off to a building
Lifting manhole covers
Pulling nails
Creating purchase points for vehicle extrications
Serving as an anchor in self-rescue from an upper floor
Removing fallen individuals
Self-protection 
These are only a few examples of scenarios in which a Halligan tool is used, however, its application reaches to almost any instance in which puncturing, lifting, wedging, prying, twisting or pounding may be needed. 
For the veterans out there, what are the most surprising uses you've found for the Halligan tool? Comment below.  
[Free download: How to buy rescue equipment]
This article, originally published Dec. 29, 2016, has been updated.
Request product info from top Firefighting Tools companies
Thank You!